The time in North Cyprus is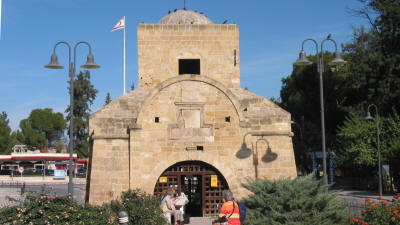 Kyrenia Gate, the Start Point For The Free City Tour
Cyprus Tourist Guides Association (KITREB), in collaboration with the Finance and Tourism Ministry and the Antiquities and Museums Department are offering free tours of the old city of Nicosia three times a week.
The two hour tour guides visitors through the walled city of Lefkosa, the Mevlevi Museum, Samanbahce Houses, the Venetian Column, Dervis Pasa Mansion, the Great Inn, Selimiye Mosque, Bedestan, Lapidary Museum, Eaved House, Arasta and many other historical landmarks.
These city tours are being held with the aim of assisting tourists interested in learning more about the history of the old city of Nicosia, and are organised in conjunction with similar tours of South Nicosia.
Tours are held on Mondays, Wednesdays and Friday, starting at 10.00 in front of the Tourist Information Office at the Kyrenia Gate. With prior notification, the tour can also pick up at the Lokmaci crossing point for those joining from the south. During the winter, tours could be cancelled because of the weather or staff shortages. Likewise, in summer, extreme heat could also mean a walking tour is unsuitable. Although booking is not required, it may be prudent to check with the tourist office. Their phone number is 0392 227 2994.
If you are unable to visit Nicosia on those days, just follow the blue line painted on the pavement. This circular trail will take you past most places of interest, and at the Lokmaci crossing point, joins a similar trail of south Nicosia.
See locations in Google maps.
Back to Nicosia Index.