The time in North Cyprus is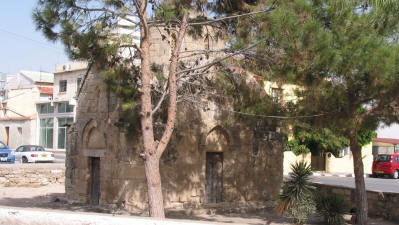 Ayios Iakovas Church
On the way from Famagusta to Karpaz, you pass through the village of Yeni (New) Iskele, also known by its Greek name of Trikomo. The name Yeni Iskele in Turkish is a reminder of the relocation of Turkish Cypriots from the Turkish district of Iskele in the city of Larnaca on the island's south coast.
The Turkish Cypriots who lived there had to flee their homes in 1974. They moved in 1975 to Trikomo, which was then renamed Yeni Iskele. At the centre of the village there is the 15th century church of St James (Ayios Iakovas). Iskele Icon museum is another main attraction in the town. Inaugurated in 1991, the 12th century church of Panagia Theotokos (Blessed Virgin Mary) is preserved by the Department of Antiquities.
Closer to Karpaz, Kantara castle guards the entrance to the peninsula. Standing over 2000 Ft above sea level, most of the structure faces east. From its highest watchtowers you can plainly see the panorama below. In the Lusignan and Venetian periods, the castle was the site of many battles. Despite this, some of the buildings are in good condition, such as the south-east tower, barracks, postern gate and northeast bastion.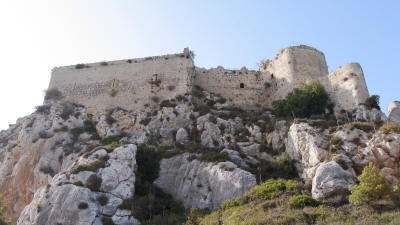 Kantara Castle
The Bogaz region of Iskele, which is known as an entertainment centre, is full of hotels and fish restaurants. In the small harbour of Bogaz, the fishing boats and others offer cruises along the eastern coast of North Cyprus.
Iskele is an important tourist centre. The people are hospitable, very interested in culture and art related activities. In the municipal park of Iskele, locals and tourists stay up until the break of dawn singing live music, and enjoying the sweet times past in North Cyprus.
Iskele is also famous for its annual festival, held during the first two weeks in July, and the Mehmetcik (Galateia) grape festival, normally held during the first week in August. Both these festivals are major regional cultural events, attracting visitors across the island.
An ironic coincidence is that the village was the birthplace of the EOKA Colonel George Grivas. He was one of the leaders of the Enosis movement which aimed for union with Greece. Grivas died 6 months before the war in 1974.
For a comprehensive list of places to visit, look at our Places of Interest section.