The time in North Cyprus is
Monday 13th August (Bucharest and train to Istanbul)
Check out at the hotel is not till 1200. As my train leaves at 1324, that suits quite nicely. Went down to a sister hotel to the one I was staying at and managed to get on to the internet, so chapter two of this diary is up there at last. Some of the pictures didn't upload, so I'll need to try and work out why.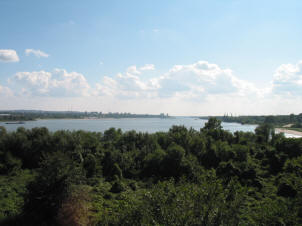 The Rumanian/Bulgarian Border
Got a (proper) taxi to the airport. It cost me the equivalent of £1.20 with a tip, so you can see just how over the odds I paid on my arrival.
Bought some sandwiches and drinks for the journey as there are no catering facilities on the train. Changed my Romanian money into Euros (they weren't interested in Turkish). With the surplus I had enough to buy a milk shake at the station McD. I know I am trying not to use them, but a thick shake's OK, isn't it?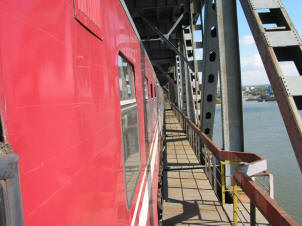 The Steel Bridge
The trip to Istanbul is the longest one on my entire journey, getting in around 9am in the morning. It is only 2 coaches long, but more join along the route. We reached the border into Bulgaria a couple of hours after leaving Bucharest. A huge border complex that would put Eurostar to shame, but virtually unused. The actual border is the Danube (One heck of a long river that is!) and we cross it on the longest steel bridge in Europe (2.5Km long). We had quite a wait at the border as we were waiting for a train to join us. At the time of writing, I'm 4 hours into a 19 hour journey and we're already running nearly an hour late.
From the border, the train meanders along river valleys and past small Bulgarian villages. The pace is relaxing, probably around 30 or 40 mph. At one point I looked out the window to see we were being overtaken by an ancient looking transit van.
The Turkish border at Kapikule was reached about 3.30am, where we all had to decamp for border controls. Organised chaos would be charitable. We queued at the passport control office, and when we got to the front of the line, were then told that we had to buy a visa. Obviously not from there. That would be too easy. From a shop a couple of 100 yards along the platform. Bear in mind it's 4 in the morning, pitch black, and the shop in question appears to be illuminated with a 15w bulb. Visa purchased, it was back to the original man to stamp it, and back to the train. Settled down back to sleep, and 30 minutes later there's another passport check, this time on the train, to make sure nobody has slipped through the net. All in all the border procedure took nearly 3 hours.
Tuesday 14th August (Istanbul)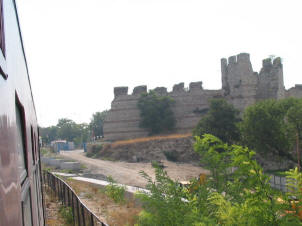 Entering Istanbul
Arrived at Istanbul around 1100, some three and a half hours late. The train arrives through the original city walls, and continues alongside them. With a bit of imagination, you can picture yourself arriving at Byzantium on horseback. (On reflection, horseback would have been quicker than this train trip!)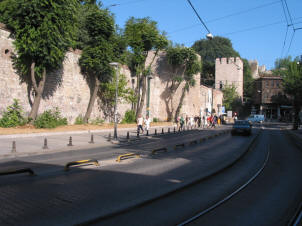 A street in Old Istanbul
The train came into Sirkeci station, built in 1888, on the European side of the Bosphorus. To continue further east, you have to cross by boat over to Hyderpasha station. (A 1908 present from the German Kaiser to the Ottoman Sultan, and named after one of the Sultan's generals.) There is a tunnel being built under the Bosphorus which will allow through trains, but that's still a couple of years away. I'm told that the builders have found some Byzantine ruins, so construction is held up till the archaeologists have finished playing with them. The plan then is to close Hyderpasha station and convert it into a hotel.
From here I'm into a different phase of my journey. This bit has been organised by Tom of Flightholiday.co.uk, so If it all goes pear shaped it's no longer down to me to sort out! My hotel is only a few hundred metres from the station and a similar distance from some of the main tourist attractions.
First impressions of the city? Bear in mind that I've only seen the European part so far, and not a great deal of that. It is very bustling, with lots going on. Very narrow streets, with the side ones taken over by pavement (and middle of the road) cafes and restaurants.
I went to top up my Turkcell phone, to find that the Cyprus pay as you go SIMMs only work in Cyprus. As I'm in Turkey for ten days, I've bought a Turkish SIMM. The cost of running my UK phone has been ridiculous, so I am making it to all and intents and purposes redundant. I'll check for messages every so often, but otherwise use my local phone.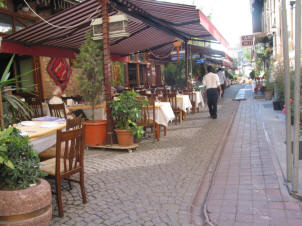 Pavement Cafes Taking Over the Street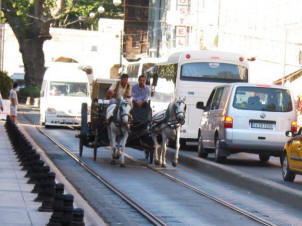 A Multi-Purpose Tramway
Decided to have a haircut. Not a patch on Cyprus. All I had was a cut. In Cyprus, it's a cut, wash, massage and a coffee and it's cheaper. I also found a laundry where for 2YTL (about 80p), I can get my shirts laundered. So hopefully people will want to start being in the same room as me!
I met Cenk Kunter, Tom from Flightholiday's friend. and the General Manager of Fezbus.co.uk to update my travel arrangements. The next 3 days in Istanbul will be very busy. At his suggestion, I'm missing out the Ankara element of my trip. I was only programmed to have a morning there, after an overnight train trip. He suggested that as there was nothing much to see in Ankara, I should go straight from Istanbul to Cappadocia. As he is not the only person to have made the same comments about Ankara, I've taken up his suggestion.