The time in North Cyprus is
Monday 6th August (Vienna)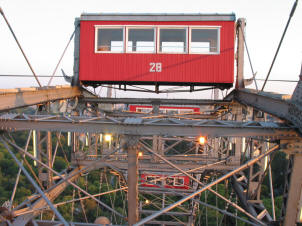 At the Top of the Big Wheel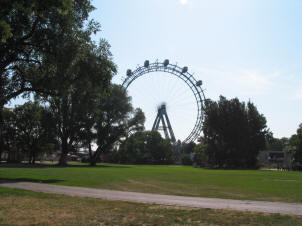 The Big Wheel
After a good night's sleep and probably a better breakfast than I had at any of the hotels so far (one of the advantages of travelling First Class), I arrived at Vienna about an hour and a half late. That actually worked out for me, as my hotel room was ready for me by the time I got there, so I checked in straight away and had a shower and freshen up. Still no laundry service for my shirts, however. No problem with my unmentionables as I can do those in my bathroom sink, but at the present rate I'll be shirtless by the time I get to Istanbul if I don't get it sorted.
On the cards tonight is an evening tour of the city followed by a ride on the Ferris Wheel (well you have to, don't you?) and a Viennese evening at a local tavern in the middle of the Viennese woods. (Cue music.)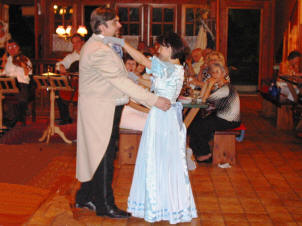 Waltz Demonstration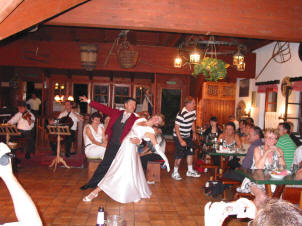 A Tavern in Vienna
The wheel was built in 1897. It was largely destroyed by fire and bombs in the second world war, but was considered to be such a landmark of Vienna, that it was restored soon after 1945.
The evening at the tavern was excellent. The meal was good, although my first sampling of sauerkraut left a lot to be desired. Our wine was served in half pint (although in deference to our masters in Europe perhaps they were quarter litre) beer mugs. A much more civilised way of having your wine. The music was even better, being the Strauss fare that I expect is organised specially for the tourists. Tomorrow night I'm going to a "proper" Strauss concert, so I should be able to compare.
Tuesday 7th August (Vienna)
Another day another bike ride. This is the last one on my trip. We are not done with boats yet, however. We still have one in Budapest and a couple in Istanbul. If I greet you with a "Yo Ho Ho" and a "Shiver me Timbers" you'll know why!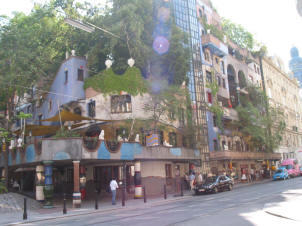 The Hundertwasser, Vienna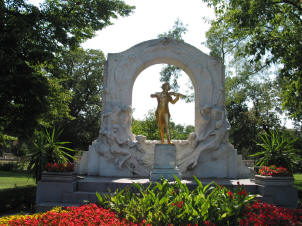 Statue of Strauss
The bike tour started in the shadow of the great wheel, and was a whistle stop tour of the major attractions of the city. There are only 6 million inhabitants of Austria, but until just after the second world war its empire was one of the key players in the world, and there national monuments and buildings built in the late 19th century reflect this.
This evening I went for a "typically Viennese" dinner. It consisted of veal (why has this gone out of fashion in the UK?) followed like last night by apple strudel. You'd think that with all the yummy pastries available they'd be a bit more adventurous with their puds! Then on to the Kursalon for an evening of Viennese music.
If you're looking for things to do before you die, add this to your list. A Viennese orchestra playing Viennese music in a Viennese concert hall. I had a really good seat, being in the second row from the front. The program consisted mainly of Strauss and Mozart, and had most of the popular light classics, "Voices of Spring", "Rondo a la Turke", Overture to "The Marriage of Figaro", "Einen Kleinen Nachnusic" and the "Blue Danube". The encore consisted of "Radetsky" and a waltz version of the Harry Lime theme. A truly wonderful evening.
The Kursalon, Vienna

The Kursalon Orchestra and Chorus
(Sorry about the picture quality of the last two pictures. It was dark when I got to the Kursalon, and flash photography was not allowed during the concert. So to give you an idea, I've photographed a couple of illustrations from the brochure.)