The time in North Cyprus is
Saturday 4th August (Strasbourg)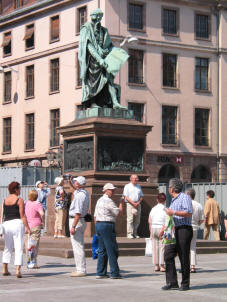 Gutenberg-The Father of Printing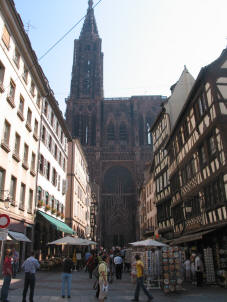 Strasbourg Cathedral
Strasbourg is quite a small city. It's probably every Brit's idea of a French provincial city. Because of the European parliament, it has been undergoing a great deal of expansion. The station is now one of the biggest in France. The enlargement is interesting. The original station facade has remained, but they have added a large curved glass extension out from the front, at a stroke increasing the size of the station concourse. They are now digging under the new concourse and adjacent park to make a tram and bus station and car park.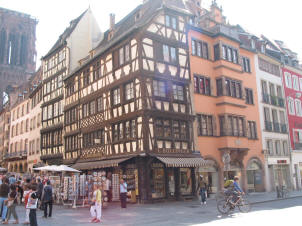 Gutenberg Square
Finally got to bed, but had a disturbed night. I think the couple in the next room were having an argument. It must have been serious, as I could hear the lady moaning and groaning for most of the night. Funny thing is, they seemed quite friendly over breakfast.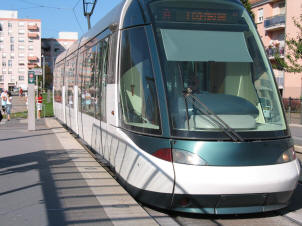 A Strasbourg Tram
It must be something to do with the French cobble stones, but the wheel has come off my new holdall, so I have now moved on to case number 3. I'm beginning to feel like the song by the New Christie Minstrels "Three wheels on my wagon".
I have nothing pre-booked in Strasbourg, but am just exploring for a couple of days. Most of the buildings appear to be quite old, but a lot of them were damaged during the war and rebuilt in the original style.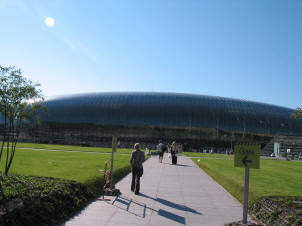 Strasbourg Station
I made up for last night's McD by having escargots for my meal tonight. (Well you have to in France, don't you?) As you'd expect they were cooked in garlic butter. I think the nation's emergency supply of garlic was in my meal. I pity anybody that has to sit downwind of my breath for the next week or so!
Sunday 5th August (Strasbourg)
My train doesn't leave for Vienna till late tonight, so I spent the day exploring. I did a fair share of walking yesterday, so to-day it's relaxing on a boat trip. To be honest, it's too hot to do much else. It's probably the hottest day of my journey so far.
Strasbourg is surrounded by water. The old city is built on an "island". Really it's a large loop of the river Ill which centuries ago was joined up. This links by various tributaries and canals to the Rhine.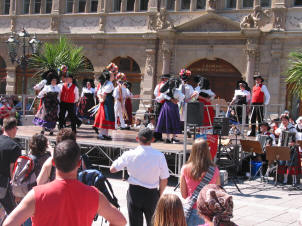 Folk dancing in Gutenberg Square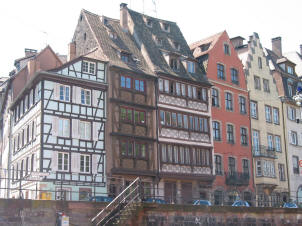 Canal-Side Houses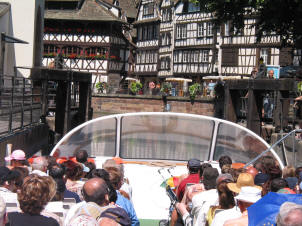 Canal Trip round Strasbourg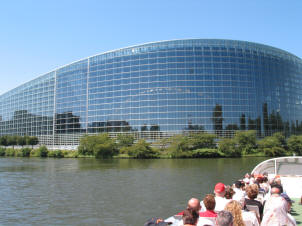 The European Parliament Building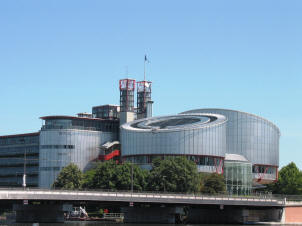 The European Court of Human Rights
Got to the station in good time for my train. It's still officially called the Orient Express, but these days with the opening of the TGV to Strasbourg, it only runs on the Strasbourg/Vienna route. The bed in my sleeper was already made up, but as it was only 10.20, I decided to fold it up and relax with a book. Take a tip from me. Don't try and adjust things you don't understand! As it folded up, it locked and I couldn't get it down again. I had to go rather sheepishly to the attendant (who reminded me of the Russian lady baddie in the James Bond film). That sorted, I settled down for the night and on to Austria.
Strasbourg is, of course, one of the centres of European administration, and home of the European Court of Human Rights. These buildings are a total contrast in design to those of the old city and are quite futuristic in style. I understand the ECHR building was designed by the Richard Rogers Partnership.