The time in North Cyprus is
How it Began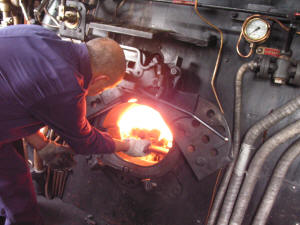 The Orient Express
It all started with a birthday trip from London on the Orient Express. I knew that it originally made its name from its route London to Istanbul. When I enquired with the staff, they told me that it still made the trip occasionally, and the next one was early September. At the time that suited my original dates for the move to Cyprus. However when I looked closer, the trip was a super luxury one costing £4500.
However research on the net brought up information on the European rail pass, so I decided to use one of those. From that it was a simple jump to stopping off at each train change point and adding a tour of Turkey. So in fairly short time my move out to Cyprus ended up taking nearly 4 weeks.
Tuesday 30th July
Last day at the driving school. I should have left last week, but stayed on to take a pupil through her driving test. She passed, so I left on a high. Went home to pack. Thank goodness I decided to travel light. My holdall must weigh 15Kg. And I have a laptop too, to boot.
Wednesday 1st August (London-Paris)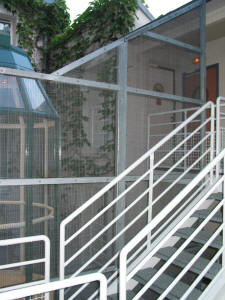 The Comfort Hotel
I leave London just after mid day, but Pete dropped me off at the bus station en route to work. Had a leisurely breakfast before getting the bus. Got to the bus stop at 10 to 9 to find I had turned into a "Twirly" (Buss pass valid from 9am. If you turn up at 8.58 the driver is usually asked if you are "Too early".
Got to Waterloo in good time for a cup of coffee before boarding the Eurostar. Train was quite crowded, and the seat pitch not that different to airline pitch. This is the only train where I am in 2nd class, as I have treated myself to First for the rest of the journey.
Arrived at Gare du Nord, and by the end of the station platform I have decided I have made a big mistake not getting a holdall with wheels. This has now been rectified and everything re-packed.
The hotel is a little strange. It has the feel of two old houses on either side of a mews type courtyard. The entrance has been closed off to make a hotel entrance, and reception built inside the courtyard. The lift to my room is up the outside of the original courtyard which is still open to the elements. To get from the lift to my room which is on the opposite side of the courtyard, I have to cross a cast iron see-through bridge.
I had a bus trip of the sights planned for tonight, but after waiting half an hour for the bus, I discovered the departure point had been moved and I hadn't seen the notice telling me. However the staff at the agency were very understanding and have booked me on a tour tomorrow evening.