The time in North Cyprus is
Thursday 23rd August (Kusadasi)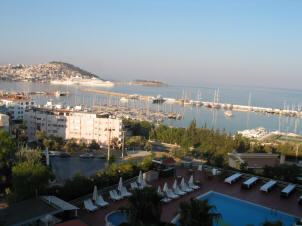 View From my Room
A lovely bright morning. The views from my room across the harbour are brilliant. Kusadasi has been developed into a tourist resort, and the harbour is a port of call for cruise ships.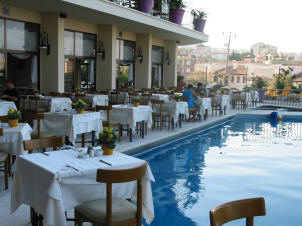 The Breakfast Room
Although I have to check out early, I'm able to leave my baggage in store, and use the hotel facilities tonight.
We got going at 8.30, and our first port of call was the Temple of Artemis. This was one of the seven wonders of the world. It is the temple where Cleopatra's sister, Arsinoe, was exiled to, and where she was subsequently murdered.
The city of Ephesus has moved several times because of the silting up of the river Meanderus (not sure of the spelling), but this is where the word "meander" comes from.
Four Generations of Recycling
The temple was burnt down several times over the centuries. (It always had a wooden roof. You'd think they'd learn) It was famously restored by Alexander the Great, who wanted the credit for it. This didn't go down to well with the Ephesians who promoted the temple as a safe place for people to deposit their money. They felt that if it was drawn to people's attention that their "safe place" kept burning down they would lose a certain amount of creditability. So to quote Baldric, they devised a "cunning plan". Alexander the G's money was gratefully received, but it was pointed out that as a God (a status to which they had quickly promoted him), he could not be seen to be scoring points over another God (Artemis) by rebuilding his home.
"Smart thinking, Batman," said A the G, handing over the money anyway, and archaeologists are still looking for the hook, line and sinker that disappeared down his throat.
The photo shows a typical example of recycling. In the foreground is the Artemis Temple. Centre right is the church of St John, where his remains are buried. Above it, a Byzantine castle, and below an Ottoman mosque. All using original stones from the temple in their construction.
At its peak, Ephesus had a population of some 250,000, and its golden age was from 100BC to 100AD. It was finally abandoned in the 6th century because of the river silting.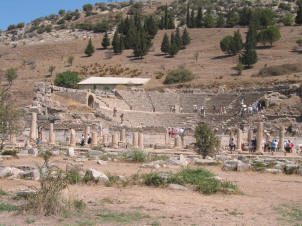 The Forum at Ephesus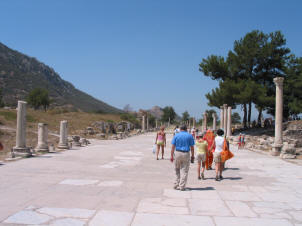 The Ephesus Main Street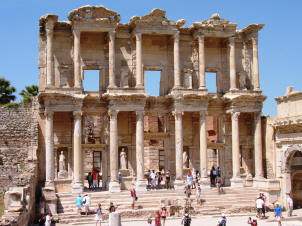 The Library at Ephesus
A bit of a worry tonight. I'd been trying to call Jill on her mobile for some time, and not being able to get through. I finally made it, and in answer to the routine question "How are you?", the response was that she was feeling a bit better now. Turns out she has been in hospital for the last couple of weeks with a nasty chest infection, and she's being pumped full of antibiotics. She's been burning the candle at both ends and in the middle, and it's all finally caught up with her. A family conflab had been held, and the decision made not to tell me until I got to Cyprus, as there was nothing I could do from Turkey. The latest news is that she should be out of hospital next week, and will spend some time with her sister, Jane, in Hampshire.
Picked up at 10pm for my 11pm bus to Antalya.