The time in North Cyprus is
Sailing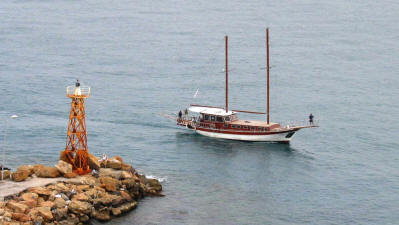 Sailing From Kyrenia Harbour
Sailing the waters around North Cyprus is as relaxing as it sounds, with pretty harbours, wonderful marine life and stunning beaches all within easy reach. Yacht and boat tours are available throughout the Summer from Kyrenia harbour. There is a large choice of operators, so take time to find a suitable service. There are also tours which depart from the port in Famagusta and sail along the Karpaz peninsula. North Cyprus is also a regular calling point for yacht rallies, and the Eastern Mediterranean Yacht Rally calls in every May.
Scuba Diving
The fascinating and unique underwater world of North Cyprus, where you can enjoy one of the longest diving seasons in the Mediterranean is not to be missed by anyone interested in scuba diving. You will find crystal-clear, unpolluted water where the marine life is still undisturbed. Underwater visibility can be more than 30 meters. You may find yourself swimming alongside the famous Green or Loggerhead turtles, or with stingrays, wrasse and grouper, or chasing an octopus across the corals and rocks. The ancient history of North Cyprus also ensures there is plenty to see once you are under the water. The rugged coastline has claimed many ships over the centuries, and you can even dive at the site where the world's oldest trading ship was found.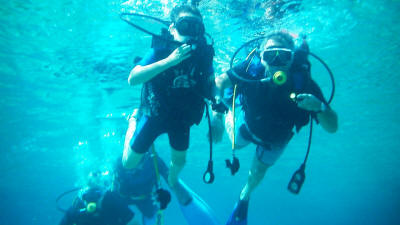 SCUBA Diving Lessons
Kyrenia is the main centre for diving, and most of the schools are based here. There are over twenty dive sites within easy reach of Kyrenia harbour alone. You can also join dive safaris to the Karpaz region, where dive sites include underwater caverns, fabulous walls and a cargo ship lying at 20 metres.
Don't worry if you have never tried scuba diving before, North Cyprus is the place to learn! Always look for a PADI approved diving school, and you'll be assured of the highest standards of training and equipment. The excellent PADI Discover Scuba Diving Programme gives you a basic introduction to scuba diving, with full safety instructions, plus a gentle dive accompanied by your instructors. Some schools will teach you the basics in sheltered sea coves (no boring swimming pools) so you can get the thrill of being under the sea right from the start. You can also take further courses, including the full four day dive course, or upgrade to your Open Water accreditation, in North Cyprus' pleasant and clear waters. Most North Cyprus dive centres also off the PADI Bubblemaker course for children aged over eight, and regular courses for those over ten years of age.
Your Northern Cyprus dive centre will give you full details of what courses involve, but here's a little hint. Take a bottle of water with you on the boat, and drink some before you dive. Compressed air is also dried to prevent the tanks rusting, so you end up very thirsty after a dive! If you prefer to snorkel than dive, many centres are happy to take you on snorkelling trips too. You will be accompanied by professional drivers who will do everything to give you an unforgettable diving holiday.
Please note that Scuba Diving along the coast of North Cyprus is not allowed on your own. And it is illegal to move or touch any historical artefacts.