The time in North Cyprus is
Friday 3rd August (Paris-Strasbourg)
I've an all day bike tour to Versailles planned for today. An early start as I have to check out of the hotel and get to the bike hire place by 9am. In the event I made it with half an hour to spare.
We started with a ride to the local rail station. Our group leader was a Texan student working in France for a few months. He was raised on a farm just outside Houston, and he kept us together like a herd of cattle. You know the sort of thing. "Take the full width of the road then we won't get separated by cars getting between us." Getting 24 bikes on to a commuter train in 30 seconds is a work of art, and has to be seen to be believed.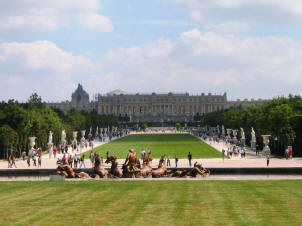 The Gardens at Verseilles
Stopping at the town market of Versailles, we bought some things for a picnic lunch. I went for some prawns and an orange! During the trip, Graham (our Texan) mentioned in passing that although the tour was programmed to finish at 4, they usually took their time, getting back about 6.30pm. As I had a train to catch at 7.24, he said he'd get back about 5.30, which worked out nicely for me.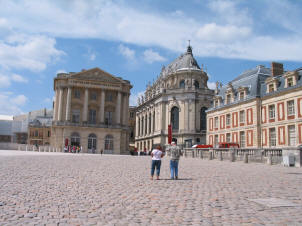 The Palace of Verseilles
Part of the tour was an audio guided tour of the Palace. I must say it is magnificent, but I am beginning to get culture coming out my ear, and my brain is starting to hurt.
Got to the train for Strasbourg OK, but just as I was sitting down, a man arrived who also had a reservation for my seat. After a bit of a discussion with my limited French (amazing what you can do if you have to), we discovered he was on the wrong train.
The journey on the TGV was comfortable and fast. This line has only been opened in the last month, and cuts the journey time from Paris down from about 5 hours to just over 2 hours.
I'm afraid it's confession time. By the time I arrived and got to my hotel, all the local eateries were closed with the exception of McDonalds. Having decided to do Europe without McD or KFC, I had the choice of going hungry or going McD. Sorry, but the golden arches won. If its any conciliation, I didn't have a Big Mac, but had a Mac Grand instead. So that makes it OK. Doesn't it?