The time in North Cyprus is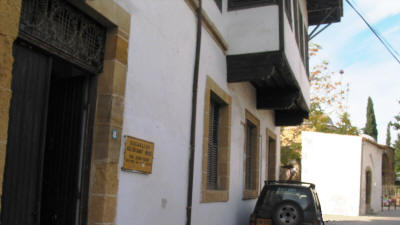 The Eaved House
The Eaved House is situated to the south of the Sultan Mahmut Library in the Selimiye district of the old walled city. This L-shaped two storey building encloses a square inner courtyard and is named from the large eaves, supported by pillars, of the main reception hall hanging over the street.
Although the construction date is not known with any certainty, evidence based on traces found on the front facade, and the Gothic arch discovered in the ground floor arched gallery during renovations, indicate that the date of construction stretches back to the middle ages.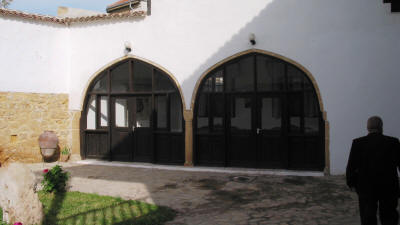 The Inner Courtyard
The house which was further developed during the Ottoman period bears features of Ottoman residential architecture as far as planning, construction techniques and building materials are concerned.
The house went through major repairs in 1932, and the main door, and large window with the stone frame on the front facade date back to this time.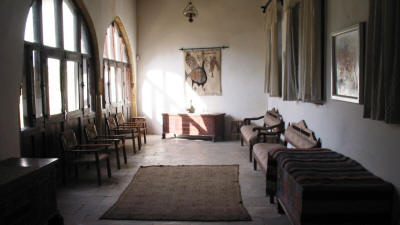 The Sitting Room
The house has three rooms on each floor, access to the first floor being by a steep wooden staircase situated in the arched gallery. The main reception room on the first floor was constructed using timber-frame techniques, while the other rooms were built with stone and mud-bricks.
Over time, the rooms on the ground floor were converted into shops with individual entrances to the front. However because of bad construction techniques, over time the main reception hall began to subside towards the inner courtyard.
In 1986, the building was nationalised by the Department of Antiquities and museums, and renovations took place between 1994 and 1996. In order to restore the original features of the house, more recent extensions were demolished and removed.
The Eaved House has been renovated to serve as a Cultural and Arts Centre where people and institutions involved with culture and art can display artwork, organise meetings, conferences and other similar activities.
See location in Google maps.
Back to Nicosia Index.