The time in North Cyprus is
Sunday 26th August (Tasucu to Girne)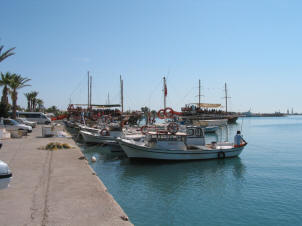 Tasucu Harbour
I have to be at the harbour at 10am for a 12am departure. Don't forget I'm leaving Turkey with all the usual passport checks that involves.
Why Cenk put me in this hotel, I don't know. It is in fact about 10 miles out of Silifke, with the harbour at Tasucu about the same distance on the other side. When I checked out and asked for a taxi, the owner expressed a bit of surprise that I was leaving a day early. So all in all there has been a bit of confusion about this last hotel.
The taxi trip took about 40 minutes and cost the best part of £20. All unnecessary, as there are several hotels on the harbour I could have used. But never mind.
The immigration check took over an hour, and the catamaran left some 30 minutes late. The journey was quite comfortable, however, and only took 2 hours.
At Kyrenia, again I joined the wrong queue for immigration. Everybody in front of me seemed to have a problem, and I could see the other queues getting smaller. I just knew, however, if I changed, mine would speed up.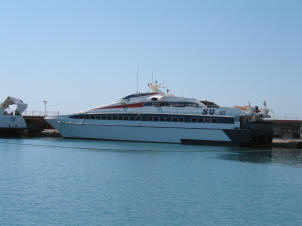 The Tasucu/Girne Catamaran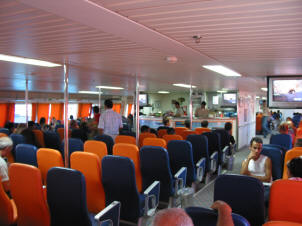 The Catamaran Interior
Eventually I got to the front. Here they give a standard visa of 30 days, but I talked the immigration official into giving me one for 60 days. Strangely at the airport they will give you 90 days on request.
My hire car was waiting for me at the terminal, so off to my apartment to sleep for a week and recover from my journey.
Would I do it again? Yes.
Would I do it differently? Again yes. With the benefit of hindsight I would have given myself a bit more free time. And I would definitely not go straight from a night bus to an all day tour. I did that twice, and both time they were killers.
All in all a busy enjoyable journey, and one I will remember.
Postscript
Having read my diary, Tom at Flightholiday.co.uk, and Cenk of Fezbus.co.uk, feel that they should have anticipated some of the hiccups that I experienced. I stress that what I actually got was what I had asked for, and if there had not been any small challenges on a journey of nearly 4 weeks, I'd have been astounded. That said, even though there are no complaints from me about the service received, Tom & Cenk feel that they should have advised me a little better.
Because of this, they have suggested that if I want a couple of days in Istanbul, they will pay half. A very generous offer, and one I shall take up later in the year.