The time in North Cyprus is
Saturday 11th August (Bucharest)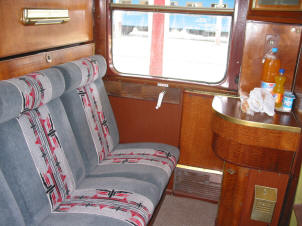 My Sleeping Car
Wakened up this morning to find we were going backwards. At some time overnight there had been a change of train and direction. I'm in the last car of the (new) train, and walking to the end of the carriage the doors, although locked, are made of glass and give you a view out at the landscape disappearing in the distance.
The breakfast omelette didn't happen. I thought the time change was at Turkey, but I was wrong, so I got to the Restaurant car at 8.15, after the kitchen had closed. However he made me a sandwich and a coffee.
I got scammed today. I suppose on a journey like this it was on the cards sooner or later!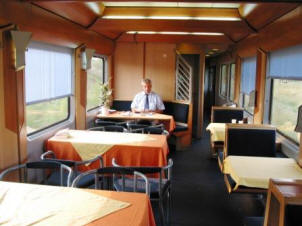 A Bemused Manager at my Late Arrival
I never take a taxi from people at the end of the platform. Always use proper taxi ranks. However this guy asked me if I was going to the Central Hotel, (He obviously said a central hotel) I thought it was a courtesy bus like Budapest. However he took me to a taxi. "OK", I thought. "The guy is a proper taxi, and I was going to take one anyway, so what the hell." I only had Euros, and he said he didn't take Euros (no particular surprise there), so he would go via an ATM. He was a bit vague about the exchange rate, but said I would need "10 hundred". The ATM screen only gave options up to 400, so that set the warning bells in motion. However I assumed I had misheard him and got 100. When I got back to the taxi, he confirmed that I hadn't misheard, and he did mean 1000. This seemed strange, so I thought I'd get some more money and sort it at the hotel. However as the transaction was too close to the last one, it was refused for security reasons. As I had to phone the bank to sort out my card, a checked out what I'd just withdrawn, to find it was just over £20. And this guy had wanted 10 times that! So I told him that the 100 was all I had and I could sort it out at the hotel. When I got there he took the 100, which was still over the odds for the taxi trip.
Spent most of the day relaxing. I have managed to get up to date with this diary. I was a couple of days behind, but it's sorted now. I had hoped to upload it, but I still have the same problem. I can connect to a wifi network, but not to the internet. It works OK with a LAN, but not many places will let you hard wire into their system. There must be an incorrect setting somewhere, but I don't know enough to sort it. I'll see if the people in Istanbul can help me as I have 4 days there.
There is a McD on the corner of my street, but I resisted temptation! I ate at a Rumanian restaurant just up the street from my hotel. I had a hot mixed hors d'eurve, a main course consisting of stuffed vine leaves with an accompaniment that I'm told was made from ground corn, and a cup of coffee. (Seems to me that the further east you go, the stronger the coffee becomes!). Together with a glass of wine, a bottle of water and the tip, came to less than £10. At least it made up for the taxi fiasco!
Sunday 12th August (Bucharest)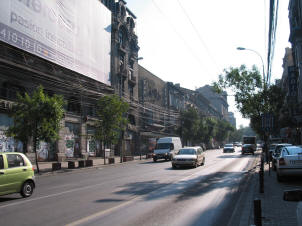 View From my Hotel
There is very much of a feel of Paris about this city. Towards the end of he 19th century, Bucharest was largely rebuilt with great emphasis towards French architects, to such an extent that Bucharest became known as "Little Paris". The influence went further than the building, as Paris fashions were worn, French newspapers were readily available, and French widely spoken by the upper classes. The main station here is still called the Gare du Nord.
This influence was gradually reduced during the communist era, when a large number of utilitarian buildings in a rather harsh and brutal style were thrown up. Bucharest is even more unkempt than Budapest. Some of the buildings are closed and boarded up, or even falling apart. When you think of it, it's not that long since they shot their president! Although there are some grand public buildings, and the country is trying to fully become a member of the EU, I find the whole place a little depressing. Perhaps one of the disadvantages of only having a couple of days in each place is that you can't really explore it properly. Now I'm nearly half way through my trip, with the benefit of hindsight, I think I would have doubled the time taken.
I have a city tour planned for today. My guide turned up promptly at 9am. Turns out the tour I booked was on a 1 on 1 basis, so I've been chauffeur driven in a Merc for most of the day. The standard of driving here and in Budapest is quite frightening. I was expecting Paris to be bad, but the drivers there are sweetness and light compared to those two cities. Pedestrian crossings are used, but drivers only stop if they are in danger of actually hitting a pedestrian. Otherwise they just weave through them. My driver here told me he couldn't understand why we had to keep to our side of the centre line if there was nothing on the road. And as for turning left or right, it doesn't really matter what lane you're in.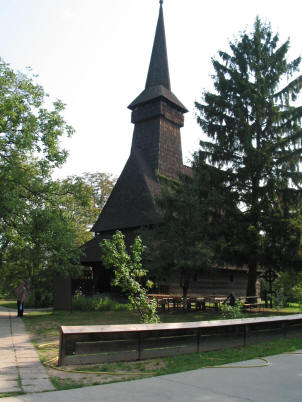 17th century Wooden Church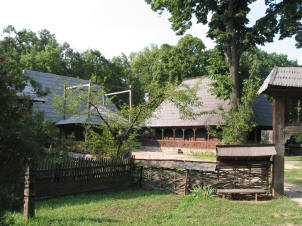 A Wooden House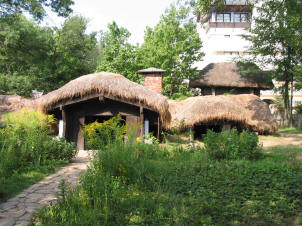 A Partially Underground House
We started with a drive round the city. He pointed out some areas that are predominately occupied by gypsies. He showed me some totally gutted buildings which he said they had destroyed. In his opinion, they don't care about property and devastate an area when they move in to it. However he felt things were improving as they were moving to the UK.
Our first port of call was the Village Museum. This was opened in 1936, and a large number of buildings were moved from their original locations in an effort to preserve them.
From the village museum, we went on the House of parliament. Until the revolution in 1989, it was known as "The House of the People", and is a much hated reminder of the Ceausescu regime. Building started in 1985, and was only 80% completed by 1989. Even today, construction isn't finished.
Building it meant the demolition of a whole district of picturesque houses, schools, churches and a monastery. Rumour has it that an inscription on the wall of the monastery church stated that any person responsible for it's demolition would die at the hands of his own people within 5 years. Sure enough, the prophesy came true. (Or has history once again been written by the victors?)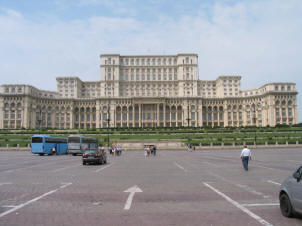 The Palace of Parliament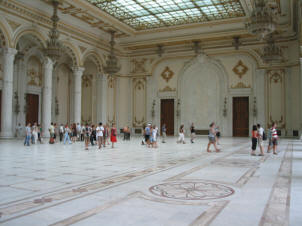 The Main Hall
View From the Balcony
Whatever the politics, the building is truly magnificent. It is the second largest building in the world after the Pentagon. It is a huge tourist attraction, and as well as the home of the Rumanian parliament, hosts conferences and cultural events.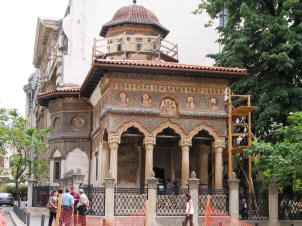 Stavropoleos Church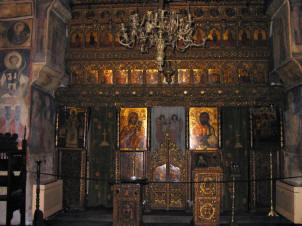 The Iconostasis
There are a surprisingly large number of churches in Bucharest. During the Communist regime, although religion was actively discouraged, it wasn't actually banned. Christianity is Orthodox here, and the Greek influence on the churches is obvious both in style and in the large number of icons within the churches. Even the walls of the wooden churches at the Village Museum are filled with icons.
One of the most impressive, and one of the smallest is the Church of Stavropoleos. It is currently undergoing repair. This is, in fact the church to a small convent, consisting of about 6 nuns and a priest. However it's not an enclosed order, even having its own web site.
Got back to my hotel about 3pm. Sat on my bed for a couple of minutes and wakened up 3 hours later! This tourist business certainly takes it out of you!