The time in North Cyprus is
National Park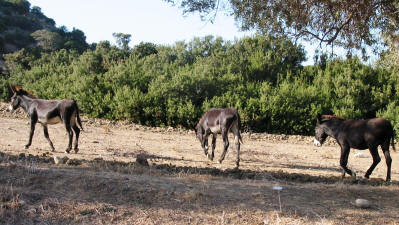 Karpaz Donkeys
North Cyprus has one National Park in the Karpaz Peninsula. The park is alive with a variety of wildlife, from birds to the elusive mouflon, a shy, elusive and highly protected species of wild sheep. The famous Cypriot wild donkeys live in a stunning, ragged landscape that is bordered by wonderful beaches. They are easy to spot, and are irresistible for nature lovers, but don't get too close; their bad temper is legendary.
Mountain walking
Walking in the Kyrenia Mountains is a great way to experience the abundance of wildlife in North Cyprus. Hiking and trekking tours on the Kyrenia Mountain Range are organised by a number of centres in the Kyrenia area.
Camping
There are several official camping sites in the Kyrenia and Famagusta areas which offer services such as washrooms, toilets, restaurants and bars. However the more intrepid visitor may wish to venture out into the wild, where there are no such facilities. There are no restrictions on such activities except that lighting fires in forest areas is an offence.
Horse riding
There are several stables offering riding lessons in the Girne and Gazimagusa areas. Some stables also allow customers to hire horses to take out.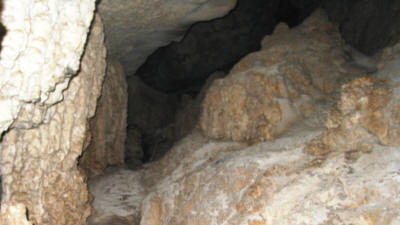 Incirli Cave
Caving
There are several caves in Northern Cyprus that you are free to explore. One, known as the Hot Cave, north of Agirdag village on the southern slopes of the Five Finger mountains, is a partially collapsed natural formation. Warm air emanates from the cave, hence the name. Do not attempt to enter the cave. Another natural cave in Girne area is the Guvercinlik Cave near Alevkayasi. Access to the cave involves some fairly difficult climbing. Proceed with caution. There are three more caves in the Famagusta area. Probably the most beautiful cave is Incirli Cave, a hundred metre long passage which contains an amazing collection of stalactites and stalagmites. The cave is opened on Sundays. There is a small entrance fee. Gastro Cave between Kuruova and Kaleburnu villages is a man made cave containing three rooms. Finally the ominously named Execution Cave, near Kaleburnu. There is said to be a golden earthenware jar hidden somewhere in the cave.
Hunting
Hunting is the greatest passion of many a Turkish Cypriot man. The season runs from October to February and is limited to Sundays only. Hunting areas are strictly controlled by the government and hunters must be licensed. The most popular prey for hunters are partridge, wood pigeon and hare.
Shooting
TRNC Shooting Federation was first born in 1974 under the name of Hunting and Shooting Federation. In 1996 Hunting and Shooting was divided into two different federations, Hunting Federation and Shooting Federation, which is the Federation standing now. According to the embargo which is held against TRNC, we are not able to participate in any international competitions, which we have been struggling for many years. Considering all these negativity, we are still continuing to stand on our own feet. Shooting in TRNC is done with the rules of ISSF and International norms with international, modern and high technology ranges. Gonyeli Shooting Range has Trap Range, Trap-Skeet Range, Compaq Sporting Range, Skeet Range and Magosa Shooting Range has Trap Range and Skeet Range