The time in North Cyprus is
If you follow Kyrenia Street from the Venetian Column towards the green line, you will intersect the pedestrianised Arasta Street.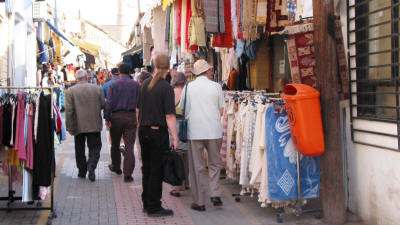 Arasta Street
The word Arasta originates from the Persian word Araste, which was the name given to the part of the mosque where traders were allowed to conduct their business. Over time it was used to represent any market area.
Arasta Street is encircled by the Sarayonu, Asmaalti and Selimiye areas of old Nicosia. It is close to the Buyuk Han, the Kumarcilar Han and the Bandabuliya.
Arasta used to be the most important shopping street of old Nicosia, linking into Ledra Street in the south of the city. Shoe and textile shops were prominent in the shopping street. As it was close to the Selimiye Mosque and to the Bandabuliya (Municipal Market). Everyone knew the tradesmen of Arasta, which was a social meeting place.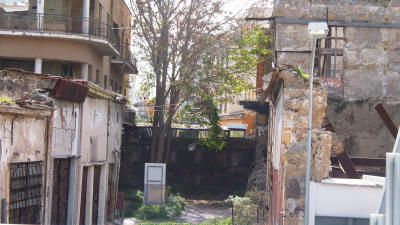 No Man's Land Before 2008
It could not retain its prominence to the present day, however, as shopping centres moved away from the city centre, closer to the new living areas.
A barricade was placed here in 1958, separating the Turkish and Greek areas of Nicosia, way before the 1974 troubles in Cyprus that finally divided the island, so you can see how significant the work was to open up the main shopping artery in Nicosia.
In 2005, Turkish Cypriots built a pedestrian bridge to join the two halves of the city. Unfortunately, the Greek Cypriot authorities felt that a bridge, built along an existing (flat) road was designed to allow Turkish troops free access under it along the green line.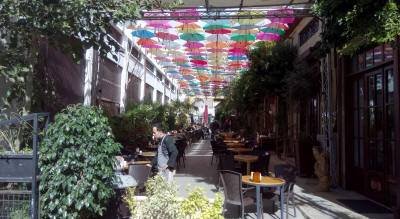 A side street cafe
In early 2007, in order to show good will, the Turkish Cypriot city administration demolished the bridge. This was followed by the Greek Cypriot authorities demolishing the barrier on their side. However objections to the crossing were still being put forward by the authorities in the south.
In March, 2008, with a change of President in the Republic of Cyprus, there was finally agreement to open the Lokmaci (or Ledra) crossing as soon as possible, and this work was completed in early April.
The border opening has brought a new lease of life to the area, and in addition to the small shops in Arasta itself, numerous cafes have spring up in the side streets.
Residents and visitors to both sides of Cyprus now have the easiest and most accessible pedestrian crossing point, and the heart of old Nicosia is once again joined. The resulting border crossing point is the sixth in Cyprus.
See location in Google maps.
Back to Nicosia Index.