The time in North Cyprus is
Monday 20th August (Goreme)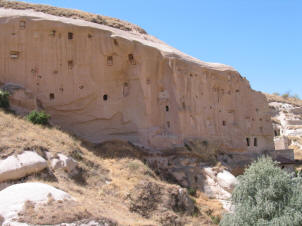 Pigeon Valley
Wakened up to luxury this morning. Radio 2 on my laptop. Sadly no Sarah Kennedy. She's ill and could be off all week, but Aled Jones standing in quite well.
Quite an overlap on today's trip. After all, if you've seen one cave, you've seen maybe not them all, but probably most of them.
We initially called in at pigeon valley, named because the residents kept a lot of pigeons in this area. The "houses" that you frequently see on the cliff faces are in fact pigeon lofts. Pigeons were important in the life of the inhabitants. They were a means of communication. The white of their eggs was used to make the white plaster that we can still see in the many churches, and their droppings used for fertiliser.
Next on the programme was a visit to Derinkuyu underground city. There are nine underground cities open to visitors in this region, Derinkuyu being the biggest. The caves date back to 2000BC, and were built to provide protection from the constant threat of invading armies. In more recent times, they provided a refuge for the Christian population who felt it wiser to keep a low profile from the Crusaders, who wanted their money or their animals, and the Moslem armies who wanted them dead!
As a means of protection, the tunnels are narrow and steep. The accommodation is on several levels and goes down to 45 meters.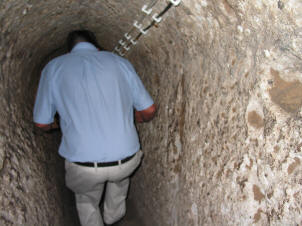 Cat Swinging not an Option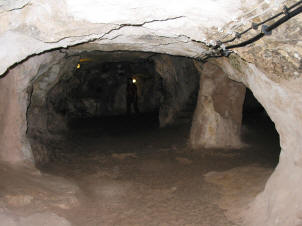 Underground Stables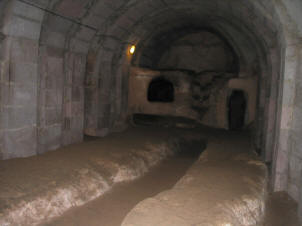 An Underground Church
On to the Ihlara valley now. This made a change from caves and tunnels! The walking was not finished, however, as the valley is 16Km long. No, I didn't! But we did walk 4 or 5 Km. The valley was one of the first settlements of the early Christians trying to escape the Romans. There are over 100 Byzantine churches built into the valley walls. it was eventually abandoned because of recurring earthquakes causing rock falls.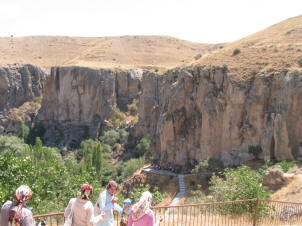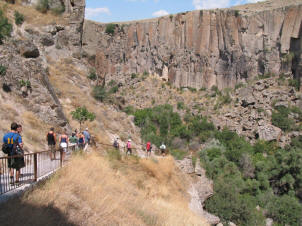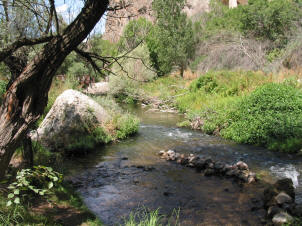 Another new experience now. The night bus to Pamukkale. Busses in Turkey are very efficient, and most people use them for their long distance travel. I was taken to the bus station for my transfer, which meant catching the long distance express bus to Denizli, and a local connection to Pamukkale. The bus left promptly at 7.30. My original plan was to read for some of the way, but within the hour it was quite dark, so I had to go to plan "B" and get some shut eye. Every couple of hours the bus would stop at a service station for 30 minutes or so. I would guess that these are designed round long distance busses from the number using them. As far as service, cleanliness and prices go, the UK has a lot to learn. I had a sandwich and a can of peach nectar for 4YTL (about £1.50. Beat that anywhere else.)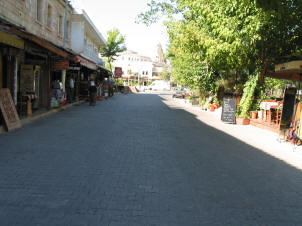 Goreme High Street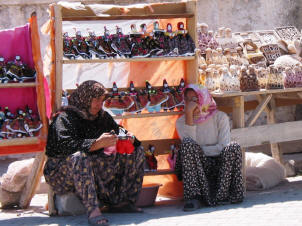 A Street Vendor Selling "Turkish Babies"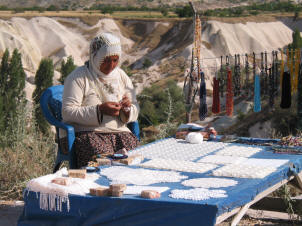 A lace Seller