The time in North Cyprus is
Wednesday 8th August (Budapest)
An early start today for my trip to Budapest. A fairly shot journey, at just over 3 hours. Again I'm glad I treated myself to First Class, as the train is so full of back packers that it's standing room only in 2nd. I have since discovered that there is a large festival in Budapest this week, akin to Glastonbury, and they're all going to it.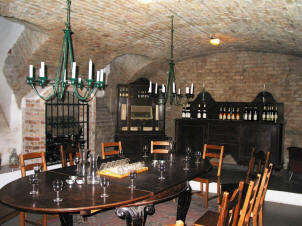 The Cellar Bar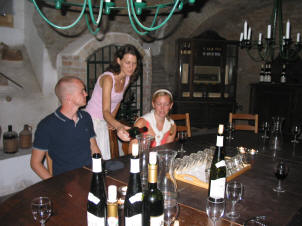 Sampling the wares
As we got closer to Budapest, some people from tourist information came down the train asking if anybody needed any help or advice. I have discovered that they do a free bus to my hotel, so that saved me the taxi fare.
At first sight Budapest seems a bit unkempt, and suffering from decades of communist neglect. A lot of the rendering on the walls of buildings is falling off with no attempt being made to repair it. That said there is some new building going on, and the official public buildings seem in a good state of repair.
My hotel is a conversion of a former hospital, and although not new, is quite tidy. It caters both for backpackers and "normal" people, which makes the room "rules" slightly amusing. "In the interest of hygiene sheets must be used. Sleeping bags are not permitted"!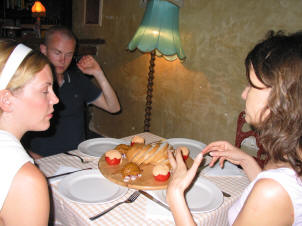 Deep Debate
Having not been able to change my money, I asked at the hotel to be pointed to a cash machine. The excursions I've booked cover most of my meals here, so I only needed about £30 for incidentals. I realised the mistake I'd made when I saw the receptionists face as I counted the money at her desk. "That's more than I make in a month" says she! A quick call to my bank in the UK confirmed that I'd just withdrawn £409! Still it'll save me withdrawing money in Turkey.
My trip tonight is a wine tasting and Hungarian food sampling. We started with a trip to a private wine cellar for samples of traditional Hungarian wines. The food element was spread over two restaurants with a bit of a talk about how the food is prepared. There were only 3 of us on the trip (and 2 of those turned up on spec), so we got to know one another quite well. The wine sampling was not a slurp and spit do. Oh no! it was a full glass and then on to the next one.
I expect you thunk I was drink, but I wasn't, I was simply relaxed. (as a newt some would say.)
And the food was OK too.
Thursday 9th August (Budapest)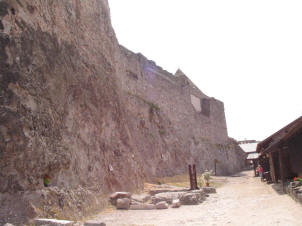 Visegrad Walls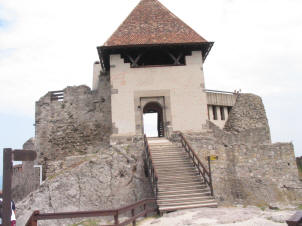 A Tower at Visegrad
This was another long day. A 10 hour trip to the Danube bend. (Where there's a bend in the river, dummy!)
We started with a trip to the Caprice diamond factory. Then on to Visegrad, the former royal residence of the original kings of Hungary. The castle dates back to the 4th Century when it was at the edge of the Roman empire. It was used as a royal residence till 1323 when it was captured by the Ottomans and fell into neglect over the next 150 years.
On to Esztergom, the centre the Roman Catholic church in Hungary. This was the royal palace and church of the Cardinal of all Hungary, possibly the most famous one being Cardinal Mindzenty.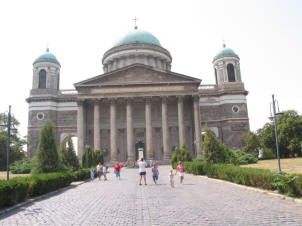 Esztergom Cathedral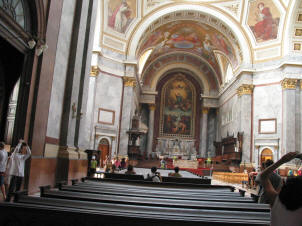 Cathedral Interior
He was made a cardinal in 1945, arrested later that year and charged with treason. He was released in 1946, but again arrested, this time being sentenced to life imprisonment. In 1956 he was released after the revolution, but when the Russians invaded, he fled to the American embassy where he was granted political asylum.
He spent 17 years there before the government allowed him to leave, and he spent the rest of his life in exile. He died in 1975, and his remains were eventually returned to Esztergom.
From there it was on to Szentendre. This is a baroque artists' village on the banks of the Danube. Very pretty, but it obviously relies on tourism, a bit like Rye in Sussex or Haworth in Yorkshire.
Have had a problem with my camera all day. I forgot to charge up the battery last night, and it's threatening to pack up on me. I'm only turning it on long enough to take a single picture. Hopefully it will last the day if the battery can rest long enough between photos.
A Szentendre Street
On to the boat for the trip back to Budapest. What is it with the UK and Health and Safety? The gangway to the boat was rickety to say the least, but whereas the UK authorities would have closed it down, the attitude here is "So there's a hole. Make sure you don't put your foot down it!"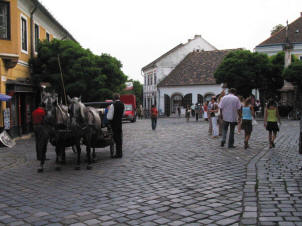 Szentendre Town Square
Second disaster of the day was my 3 day metro pass. It's at my hotel and I'm not! I have 170 Forins to pay for a ticket that costs 180. I attempted to pay at the counter with a 10,000 note.
The lady at the ticket counter didn't even answer me, she just grunted. I expect that she was specially trained to deal with troublesome foreigners!
I did think of risking it without a ticket (After all I do have one!) However the fact that there were ticket inspectors checking everybody put me off. That and the fact that the penalty for travelling without a ticket is 10 years in the local Gulag. I asked at the nearby currency exchange if they could break up my 10,000 note, but she was reluctant to lose her change. However she took pity on me and gave me 10 Forins (about 1.5p) to make up my 180.
Went for a meal at a local Hungarian restaurant this evening. Nice meal. Steak with a sauce of chicken liver, roast potatoes and salad. With a beer it came to 2,400 thingies (about £4)