The time in North Cyprus is
Friday 10th August (Budapest and overnight to Bucharest)
A whistle stop tour of Budapest today, taking in the Parliament building. This was built between 1895 and 1902, and is quite impressive. We then went to the Buda side of the river for a visit to the Castle and royal palace.
The Hungarian Parliament Building
The Entrance to the Parliament Buildings
The Hungarian Crown Jewels
Our guide on this tour was aged 16 at the time of the 1956 revolution, and showed us some of the locations of the fiercest fighting. On one building she showed us the marks of the hundreds of bullets that had hit the building. Although repaired, the holes have been filled with a concrete of a slightly different shade, and if you get the angle of the light right, they can be clearly seen. Indiscriminate firing killed 149 people at this spot. She was still clearly upset that the Russians sent in 2000 tanks to the city, claiming that was more than they used in the second world war.
She said that it was generally felt that today's socialist government was corrupt. (Where have I heard that before?). In her opinion, Communism was evil, and Socialism is the grandchild of the communists. It must be said that the 20year old Hungarian girl on this tour found her comments amusing.
Budapest is two distinctly different cities. Buda, which was the original capital of Hungary is very hilly, whereas Pest is flat. They are on opposite sides of the Danube and have about 2 million inhabitants. The river has two large islands at this point, and it is one of those where the backpackers were heading for.
Because of the hills, the view over the entire city is really good, particularly from the part of the castle known as the fishermen's bastion.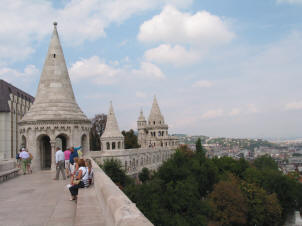 Fishermens' Bastion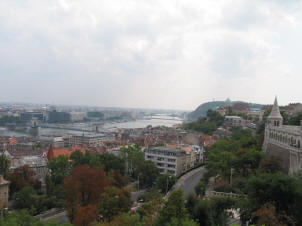 The View From the Bastion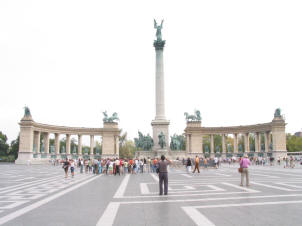 Heroes' Square
Hungary was created in 896, and 1000 years later, to celebrate their millennium, statutes of all the countries heroes were brought together in one location, known as heroes' square.
A quick trip to an internet cafe to get up to date with emails, and then on to my Hotel for the transfer to the train station. I really must get out of the air travel mentality of getting to the station early. 1 and a half hours is much too soon. All you end up doing is standing around.
This is my longest journey so far, some 15 hours. The train is quite comfortable, and soon after leaving Budapest I retired to the dining car for a meal. The dining steward says that if I get there in the morning at 7am He would do mean omelette for a leisurely breakfast (included in the sleeper price) before my Bucharest arrival at 0850.

Budapest Castle and Royal Palace