The time in North Cyprus is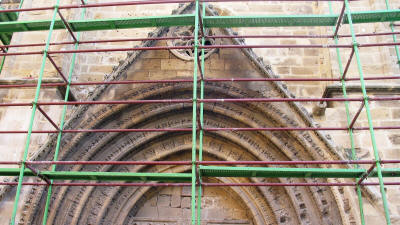 The Bedestan North Entrance During Restoration
The Bedestan is one of the most important historical buildings in Nicosia, reflecting the multicultural life and many historical periods of the city.
Tucked between the Selimiye mosque and the Bandabuliya, the Bedestan was originally a 12th century Byzantine church. It was later enlarged, with some Gothic additions by the Lusignans. After further changes by the Venetians, the building was handed over to the Greek Orthodox church, being used as a cathedral.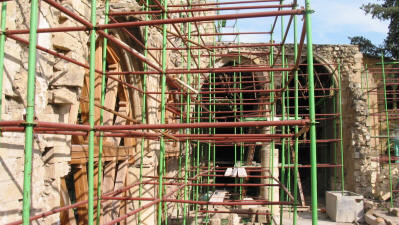 Undergoing Renovations
Under the Ottomans, it served for a while as a grain store and cloth market., but was later allowed to deteriorate so that only the north vaulting remained intact. Looking around the church, you can still see the effects of the severe earthquakes of centuries ago.
The Finished Result
Until the beginning of the British rule, the Bedestan was the busiest and most important marketplace in Nicosia, and slowly evolved into a marketplace where all kinds of goods were sold.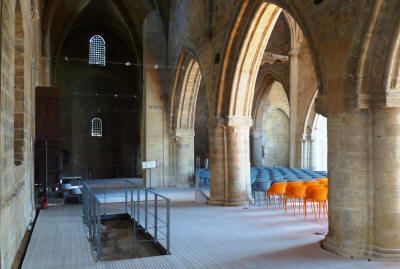 The Bedestan Interior
The Bedestan is now preserved as an ancient monument. The masonry on its northern entrance resembles the masonry on the entrance of St Sophia Cathedral, and before restoration the interior had many fallen marble and granite columns, probably Roman. It is obvious even with a casual glance that the Bedestan was once a much larger church. It remains a mystery, however, why two such large churches were built so close together.
Restoration of the Bedestan started in 2004, and the end result has been impressive. Where possible, existing structures have been repaired. That has not always been the case, and the roof of the western portion has been replaced with a modern timber structure. Although totally different in material, design and look, it somehow fits in and feels right.
Inside, the stone floor has been covered over, although the original has been exposed in places.
In November, 2009, after a five-year restoration, the Bedestan was re-opened as a multi-culture venue and exhibition space. It is open to visit from 10am to 1pm, except for Wednesdays (2.30pm to 5pm), and Sundays (closed).
See location in Google maps.
Back to Nicosia Index.