The time in North Cyprus is
The town of Lefke, near Guzelyurt, possesses much more important historical riches than its neighbour. Lefke is a mixture of coastline and vast mountains, lush with citrus groves. It is the only place in Cyprus where the Yafa oranges are grown, and it is also popular for growing soft fruit. Three dams provide constant water all year round, which is why agriculture is so successful in this region.
The coastline has a number of restaurants where you can enjoy Turkish cuisine or fresh fish, and make use of their beach facilities.
Working your way up to Lefke's town centre takes you through mountains overlooked by the Troodos, so close that you can see its snow capped summits in the winter. In the centre of Lefke is Ataturk Park, which is host to events such as cookery competitions, and an annual fair held in the middle of August celebrating the freedom of Lefke during the war.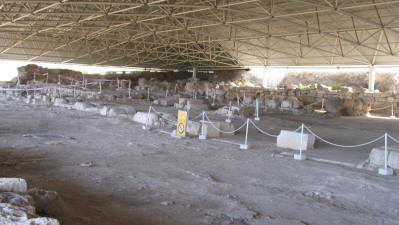 The Church Ruins
The area is obviously a prized possession, as it was dominated by the Ottomans for over 300 years, and there are some interesting examples of Ottoman architecture to be seen here. Lefke was once a prosperous mining town, and its mountains were rich with copper and gold ore. It was the centre of mining in ancient times and a medieval barony.
Close to Lefke you will find the ancient city of Soli. The origins of Soli can be traced back to the 6th century BC, but it came to prominence during the Roman period and was destroyed by Arab invaders in the 7th century. You can see a Roman theatre, Basilica and Agora which were discovered in 1929. The theatre is still used today for concerts and plays.
Slightly further away are the remains of the Palace of Vouni. Set on top of a mountain, it is thought to have been built during the Persian occupation in the 5th Century.
Lefke may not be the island's capital, yet the name Cyprus originates from the ancient word for copper, so at one time it surely was the heart.
The town hosts an annual music festival every Autumn.
For a comprehensive list of places to visit, look at our Places of Interest section.