The time in North Cyprus is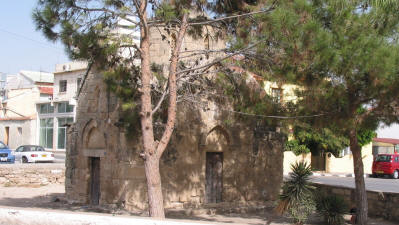 Ayios Iakovas Church
In the centre of the village of Iskele, stands the tiny Dominican chapel of Ayios Iakovas. This has to be one of the smallest and most attractive churches in Cyprus.
It is very difficult to date this church, but is certainly no later than the 15th century, and more likely 100 years before that.
In design, it is very simple, which adds to its charm. A plain rectangular nave with four high, pointed arches supports a high drum pierced by six round-headed windows. On top of this sits a small dome, resting on a moulded cornice.
The chapel is used as a Tourist Information Centre, and is open from Monday to Friday. If you manage to visit, there are some porcelain plates in the vaulting which are of interest. The remaining icons, however, are much less interesting.
Supposedly, Queen Maria of Romania was so struck with the beauty of this miniature chapel, that in 1913 she had a duplicate made at Balchik on the Black Sea to serve as her private chapel.
See the location in Google maps.
Back to Iskele index.