The time in North Cyprus is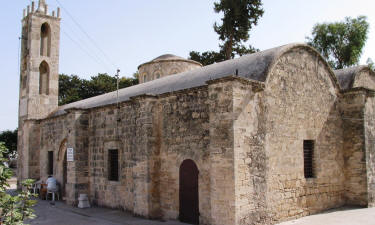 Iskele Icon Museum
This is the main church of the village of Iskele. It was built in the 12th century as a single-aisled, domed church with arched recesses to its side walls. This is a style common in Cyprus for churches built around the time. A vaulted aisle was added to the north in the 15th century, and an extension to the west at a later date. The church was completely restored in 1804.
Most of the 12th century wall paintings are being preserved, restoration starting in 1966. This restoration led to further discoveries in 1967. The Virgin Mary in the apse is a 15th century re-painting, but the Ascension in the vault before it is a mid 12th century composition executed in the style of the time.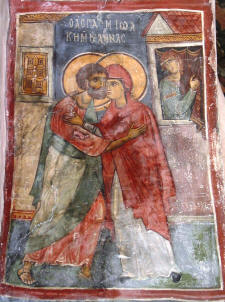 Joachim meeting Anna
The paintings in the arch around the south recess are also from the 12th century. The Virgin Mary of the annunciation. The prayer of Joachim, showing him with a garland cartouche. The meeting of Joachim and Anna, the two showing embracing one another while a servant girl looks on from behind a curtained window, and a group of three shepherds, part of a now gone Birth of Christ.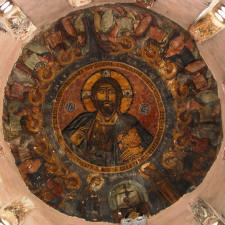 Christ Pandokrator
The painting of Christ inside a pointed aureole in the vault of the north aisle is a Franco-Byzantine painting of the 15th century, originally part of an Ascension.
Perhaps the most significant painting is of Christ Pandokrator, which is in the dome.
Here you can see a frowning Christ avert his gaze towards a surrounding inscription identifying Him as "Overseer of all", while angels on bended knees worship all round Him.
Apart from these wall paintings, which in themselves are rare examples of this style of art decoration, icons from this church and from other parts of North Cyprus are on display.
The museum can be found on the road out of Iskele, heading towards Gecitkale.
See the location in Google maps.
Back to Iskele index.