The time in North Cyprus is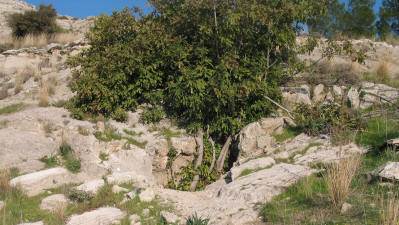 Incirli Cave Entrance
Incirli Cave is a natural cave within a Gypsum hill near the village of Cinarli, and is the largest cave on the island. It has a hundred metre long passage which contains an amazing collection of stalactites and stalagmites. Incrili Cave takes its name from the fig tree nearby, the fruit of which is said to have healing powers.
Legend has it that the cave was found in the following way. Years ago, three goat thieves hid the goats they had stolen in the cave. The villagers followed the goats feet marks to the fig tree where they mysteriously disappeared. A few days later, the same thing happened.
Following this, the police laid in ambush by the fig tree. The thieves came at midnight, and disappeared under the tree. The next day the villagers and police found the cave entrance, and entered it in order to arrest the thieves and rescue the goats. However, not a trace of either was to be found.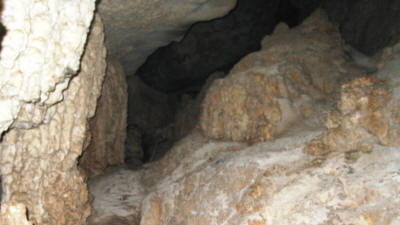 Cave Interior
According to rumour, the thieves escaped from a second entrance, close to the village of Altinova, some distance from Cinarli. However, this entrance, if it indeed existed, is still waiting to be rediscovered.
The cave is also said to have been a refuge for EOKA terrorists during the troubles on the island in the 1950s and 60s.
As a result of the efforts of the village head, the cave was tidied up and lit, and was opened to the public in 1995.
The cave is opened daily except Wednesday. There is a small entrance fee.
Incirli cave is found by taking the road north from Gecitkale towards the coast. You will see the signs for the cave and Cinarli village shortly after leaving Gecitkale.
See the location in Google maps.
Back to Iskele index.