The time in North Cyprus is
The Buttresses Outside the Omeriye Mosque
The Omeriye mosque is the only Gothic church converted into a mosque in south Nicosia. It is one of only two mosques in south Nicosia, and the only one currently used as a place of worship. (The other one is the Bayraktar mosque, which can be found on the Constanza bastion). It serves the small Muslim community in south Nicosia, consisting mainly of diplomats, businessmen and holidaymakers.
As early as 1395, the Latin monastery of St. Mary of the Augustinians was one of the three most important monasteries of the city. Consisting of a nave of three bays ending in a three-sided apse, at its west end it had a porch with a triple arcade. The exterior of the church, although bare, is reinforced with massive rectangular buttresses, which run straight up without any projections.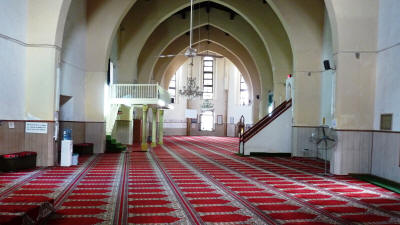 The Mosque Interior
The church had a large and a small cloister, which date from the first half of the 14th century. To the east of the nave are the ruins of a Renaissance style building which was a hospice for pilgrims, built by the Latin Archbishop William Goneme in the 15th century. This was largely destroyed by the Ottoman bombardment of 1570.
The church of the monastery was converted into a mosque after the Ottoman conquest of the island. The Ottoman commander, Lala Mustapha Pasha believed that the original church had been built on the spot where the Prophet Omar, a relative of the Prophet Mohammed, had rested while visiting Nicosia in the 7th Century, and named the mosque in his memory. The upper part of the mosque was demolished at this time and replaced with a plain wooden roof supported by pointed arches. Many Lusignan and Venetian nobles were buried here, and their tombstones were used to repair the damaged floor. A minaret was added, possibly the tallest in Nicosia, and you can still climb this to admire the views over the city.
The north wall of the mosque was recently restored by the Nicosia Master Plan, and the south garden was redesigned, as part of regeneration of the entire area, once one of the wealthiest in Nicosia.
See the location in Google maps
Back to South Nicosia Index