The time in North Cyprus is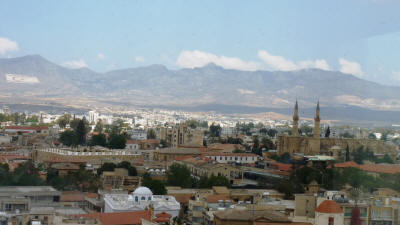 Looking North, Showing the Buyuk Han and Selimiye Mosque
Old Nicosia is a city of low-rise buildings. The Ledra Observatory is at the top of the tallest, at all of eleven stories.
You get to the observatory by a side street entrance to Debenhams. It is at the top of what is officially called the Shakolas tower, but still widely known as the Woolworths building. There a lift will take you straight to the 11th floor, via a rather nice coffee shop if you are so inclined.
The observatory is not all that big, but it does have good views all round, and you can see how the city has been extensively developed to the south since 1974. As well as photos of Nicosia, there is an audio visual display of the history of the city. It has to be said, that the tape does need updating. It still refers to the barricades at the end of Ledra Street, a crossing that has been opened since April 2008.
You will also hear a Greek version of history. For example, Makarios' tearing up of the constitution which resulted in the expulsion of Turkish Cypriots from government, and their forced movement into enclaves is glossed over as "The Turkish Cypriot Revolt in 1963"
If you are restricted to visiting North Nicosia, there is an observatory at the top of the Saray Hotel in Ataturk Square.
See the location in Google maps
Back to South Nicosia Index