The time in North Cyprus is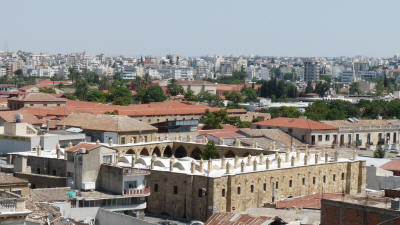 Buyul Han with the Southern Development in the Distance
Nicosia was separated into North and South areas in 1963, with the Turkish Cypriots being restricted to the northern part. Consequently the marginalising of the Turkish Cypriots meant that the high-rise building seen in the south, mainly didn't happen in the north.
The tallest building in north Nicosia, is the Saray Hotel, which is next to the Venetian column.
On the 8th floor, at the top of the hotel, the restaurant and bar has a balcony round the building, and from here you are able to see most of the old city.
Unlike the observatory in the south, this is not a museum, so you will not find any location maps or explanations. However, the views are worth the entry fee of 5TL, which does include a soft drink or beer.
See location in Google maps.
Back to Nicosia Index.