The time in North Cyprus is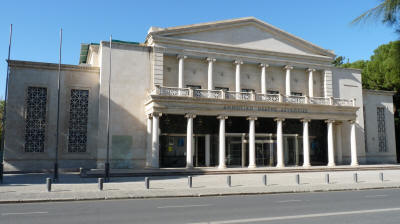 The Municipal Theatre
The Municipal Theatre and Arts Centre is situated at the edge of the Municipal Gardens, and across the road from the Cyprus Museum, just a few minutes walk south of the Paphos Gate.
The theatre is the main venue for musical concerts, dance performances, plays and ceremonies. It is built in the Neo-Classical style.
In 2014, the theatre closed, and by 2017 was in a state of some disrepair. Options are being explored as to its future. However these cover both extremes from total demolition to total refurbishment. A decision has yet to be made.
See the location in Google maps
Back to South Nicosia Index