The time in North Cyprus is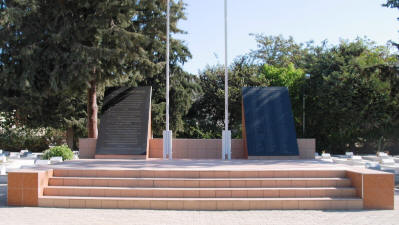 Tekke Bahcesi Memorial
Just behind the Fazil Kucuk museum is the Tekke Bahcesi martyrs memorial.
In the 1950s EOKA was formed with the aim of uniting Cyprus with Greece. Initially, their actions were against the British. However after independence, their campaign intensified, with an aim not only of union with Greece, but of removing all Turkish Cypriots from the island.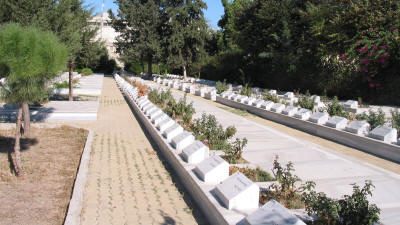 The Graves at Tekke Bahcesi
It is generally accepted that systematic massacre of Turkish Cypriots started in December 1963.
In the village of Turkeli (Ayvasil), EOKA supporters started looting Turkish Cypriot houses, killing men, women and children who got in their way. The victims were then hastily buried in a mass grave. They were later re-interred at this location.
During the events of 1974, this place was used to bury civilians, freedom fighters and military personnel. Around 1500 people were buried here.
By 1977, however, most of the bones were exhumed and returned to their original villages. There are still around 160 people who remain buried at this spot.
See location in Google maps.
Back to Nicosia Index.