The time in North Cyprus is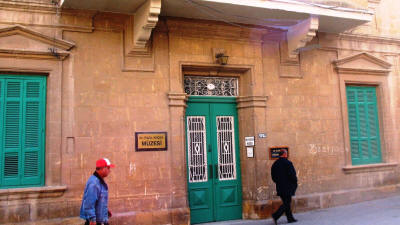 The Dr Fazil Kucuk Museum
Dr Fazil Kucuk was born in 1906 in Nicosia. He studied medicine in Turkey, Switzerland and France. In 1937, he returned to Cyprus and started practice as a GP.
In the 1950s, Dr Kucuk set up his own political party, established the first Turkish labour union in Cyprus and launched a newspaper, Halkin Sesi, which is still being published.
During the London and Zurich conferences in 1959, Dr Kucuk represented the Turkish Cypriot community. On independence, Dr Kucuk was elected vice president of the new Republic of Cyprus.
Although Rauf Denktash took over as Turkish Cypriot leader in 1973, Dr Kucuk continued to work for the Turkish Cypriot cause, even during a long illness.
Dr Kucuk's Office
Dr Kucuk died of cancer in January 1984, and is buried in Hamitkoy.
The museum is in Dr Kucuk's former home and office, and is located in Kyrenia Avenue. The museum was opened on the 14th march 1997, on what would have been Dr Kucuk's 91st birthday. It is the first private museum in North Cyprus, and was created with contributions from his family.
There are two main areas in the museum. In the study, all the books and belongings used by Dr Kucuk up to his death are displayed. The clinic and pharmacy houses the original furniture used in the patient's waiting and treatment room.
Also on display are documents relating to the Halkin Sesi newspaper, and gifts to Dr Kucuk during his political career.
The museum is small, and has a dual function as a research library. Consequently the door is frequently closed. This, however, does not necessarily mean the museum is not open and it is worth trying the door.
Follow the link for a longer biography of Dr Kucuk.
See location in Google maps.
Back to Nicosia Index.