The time in North Cyprus is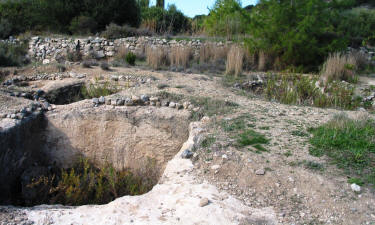 Karmi Necropolis
Just outside Karmi village is a collection of chamber tombs which are thought to date back to the middle Bronze Age (1900-1625BC), which makes them older than the Royal Tombs at Salamis.
A number of tombs have been excavated, and by far the most important discovery is the oldest human figure relief discovered in Cyprus, and is thought to represent the goddess of fertility.
In one of the tombs, bowls belonging to the Minoan civilisation in Crete were discovered, along with blue beads from Egypt, which suggest trading links with both these countries. They are thought to have been gifts for the dead. This tomb is known as "the tomb of the seafarer", because it is believed that the man may have been working on the ships from Lapithos trading between Syria and the Aegean, and the objects were mementos of his travels.
See the location on Google Maps
Back to Kyrenia index.