The time in North Cyprus is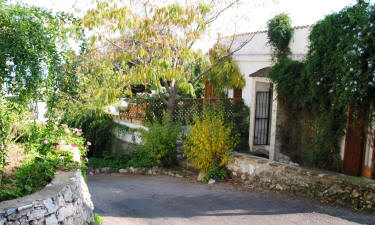 A Village street
The ancient Cypriots tended not to build their villages close to the coast. This was to provide some sort of protection from Arab raiders, and to be high enough in the foothills to see them coming and get prepared. Those that were established on the coast tended to become fortified like Girne, or were eventually abandoned, like Lambousa. A look at the map will show a string of villages just inland; Besparmak, Arapkoy, Catalkoy, Ozankoy, Lapta, and Karaman itself. They all date back to the Lusignan period or earlier.
Karman, which is still extensively referred to by its Greek name of Karmi, is arguably the prettiest of all. Prior to 1974, it was totally inhabited by Greek Cypriots, and was a stronghold of the terrorist organisation Eoka-B.
In 1974 it was heavily damaged in the fighting and completely abandoned. For a number of years afterwards, any heavy rain would leach the blue paint of ENOSIS slogans through the covering of new whitewash. The area was agriculturally too marginal to attract either Turkish Cypriot refugees from the south or Anatolian settlers, and the village was left derelict.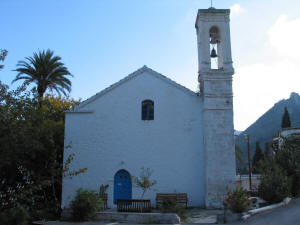 Karaman Church
In 1982, Karmi was assigned a special development category, and responsibility passed to the ministry of tourism. Infrastructure was put in place. Roads, pathways and parking places built and improved. Street lighting and water connections were modernised. But perhaps the most innovative decision was regarding the modernisation of individual houses.
The ministry leased the houses to foreigners, and only foreigners, on short leases. This was conditional on the foreigners restoring the houses with their own money, and using only local architects and builders. It was felt important that the character of the village was kept, and that traditional construction methods used. For example, wooden rafters and rush mats were used for the ceilings, solar heaters are not permitted on the roofs, and water tanks are limited to 60cm above roof level.
In 1986, leases were extended to 25 years because of the increasing costs of renovations.
With around 150 renovated houses, Karmi is a beautiful village, full of flowers and with views to the coast and inland to St Hilarion castle. Start your exploration at the village car park, and if your visit is on a Sunday morning, drop into the former Greek Orthodox church which is now a small North Cyprus museum.
See the location on Google Maps
Back to Kyrenia index.