The time in North Cyprus is
Tombs near the Icon Museum
When talking about Kyrenia's catacombs, it is difficult to narrow them down to a specific location. It must be remembered that the Romans built their cemeteries outside the town. As the Roman and Byzantine town, was to the east of the castle, this meant that their graves were towards the west.
As the modern town lies much further west than that of the Romans, the area that was rich with catacombs has been largely built on over in the last few years. When an ancient tomb is found, it is not ignored. It is excavated, and any finds removed for study. Afterwards, however, the building work continues, and some catacombs can still be found in the cellars of buildings.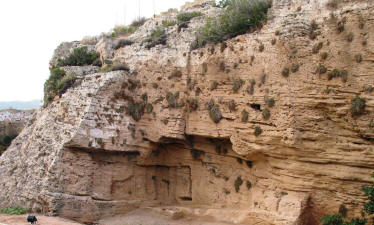 Tombs near the Rocks Hotel
There are, though, still places where the tombs can be seen within Kyrenia. Near the Rocks hotel, where a new car park has been built, you can see tombs that have been exposed in the cliff face.
In the old part of town, opposite the icon museum, you can see the remains of more catacombs, complete with a restaurant on top of them. These, though, are overgrown, and if the vegetation is lush, you may not even know they were there.
Along from the church of Chyrsopolitissa, you will find the entrance to a steep passage taking you to an underground chamber. Sadly, because of vandalism, this has been closed off, and is only open by special arrangement by the custodian at Girne Castle.
All in all there are around 70 known tombs in Kyrenia, but most of them are not accessible to the general public.
See the location on Google Maps
Back to Kyrenia index.