The time in North Cyprus is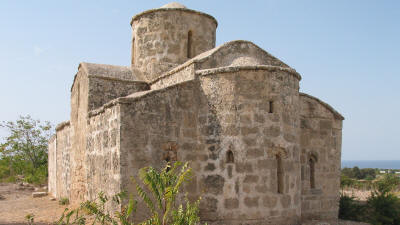 Panayia Pergaminiotissa Church
Panayia Pergaminiotissa, is a late Byzantine church, dating from the 11th century. Recent work to prevent deterioration of the building means it is no longer possible to get inside. However it is still worth taking a look at. (But see update below.)
The building is square shaped, with the roof in the form of a cross, topped with a drum on which sits a small dome. The church has an interesting cylindrical apse.
It is possible that the church was built over a much earlier one, as foundations were exposed outside the apse during renovation.
Remaining Frescoes
Wall paintings from the 11th and 12th centuries have mainly been removed, although there are still some remaining.
The church is thought to be the seat of a long gone monastery. Panaya Melandryna has been suggested, but that is probably too far away to be realistic.
If you look carefully, however, you can see the overgrown ruined foundations of buildings that once surrounded the church. They can be reached via some paths before you get as far as the parking area.
Update, August 2016
A previous version of this page suggestedd that it wasn't worth leaving the road to visit the church. This is no longer the case. Rather than "looking better from a distance", it is well worth a visit, and is possibly one of the more interesting tourist attractions in this area.
The largest change to the area is the opening of Minia Kibris (Miniature Cyprus), a display of 15 miniature historical buildings.
Cyprus is an island which has hosted various civilizations throughout history, and Minia Kıbrıs features buildings representing each civilization that settled in the island, from the Roman, Byzantine, and Ottoman periods.
The models of the historic buildings such as Kyrenia Castle, the Selimiye Mosque in Nicosia, and Apostolos Andreas Monastery are being exhibited in the gardens round the church. The display is unique in Cyprus.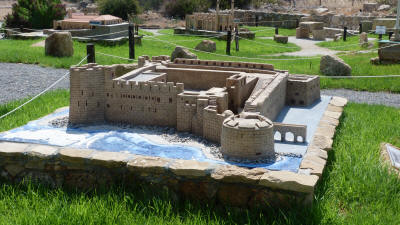 Kyrenia Castle
The inspiration behind the model park was the mayor of Tatlisu, who was impressed by Miniaturk in Istanbul. He felt that the region was a tourist attraction and the Minia Kıbrıs project was initiated in order to boost the tourism potential of the area. The main aim was to make miniature models of the historic buildings in Turkish Cyprus, and great care was taken in their selection. More models are planned for the future.
The models have been made by husband and wife sculptors Ugur & Necmiye Ozsengul from Corum in Turkey.
The church and gardens are opened daily from 9am to 5pm. Entry costs 5TL. There is usually a custodian there, although he doesn't speak any English.
To get there, take the road from Gecitkale or Kyrenia to the northern coastal road. Four kilometers after passing the Tatlisu roundabout, you will see the church on your right. The track leading to the church has been surfaced, and there is a parking area alongside the church.
See the location in Google maps.
Back to Iskele index.