The time in North Cyprus is
The Greek Orthodox monastery of Panayia Melandryna was built in the 14th century, and enlarged in the 16th century. The name is thought to come from the Greek "Meli" (honey) and "dryes" (Oak tree, which is common in the area). Alternatively it could be named after a common fish with the name "melana" or "melanouri" that is plentiful off the coast.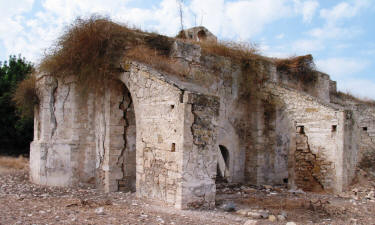 Panayia Melandryna Monastery
The monastery is in a very poor state of repair. The roof has caved in, and the buttresses are beginning to collapse. It is only a matter of time before the church totally succumbs to the ravages of the weather.
The monastery is situated on a large plain, below the mountains, with views over the sea. The site seems to have been extensive at one time. Indeed, as you walk over the fields, tesserae can be seen all round you.
It is thought that the monastery was built over the remains of a pagan temple. Certainly, as you wander round the area to the south of the monastery there is evidence of man-made entrances in the rocky ground. These, however, remain a mystery as excavation has not yet been carried out.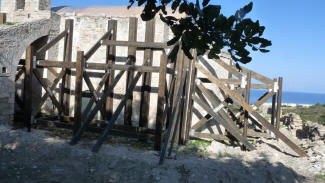 Structural First Aid
To reach the monastery from Kyrenia, take the coast road heading to Esentepe. Three kilometres after the turning for Esentepe, as the road starts to go down the hill turn right alongside some houses onto a rough track. (If you have reached the turning to Bahceli, you've gone too far.) The monastery is not signposted, but you should see it in the distance. At some stage you will need to abandon your car and continue on foot.
Update, January 2014
Emergency repair work has now taken place. The vegetation growing in the walls has been removed, and the walls, both inside and outside have been shored up.
A temporary roof has been put in place, making the structure waterproof. Hopefully this will prevent further deterioration until funds are available for renovation.
See the location on Google Maps
Back to Kyrenia index.