The time in North Cyprus is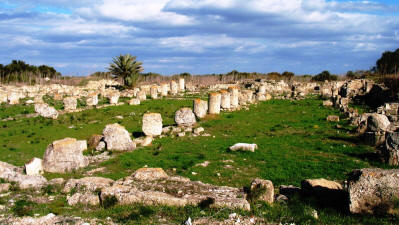 Ayios Epiphanios' Basilica
St Epiphanios basilica can be found a little beyond the Roman Villa. At 58m by 42m, this was once the largest basilica in Cyprus.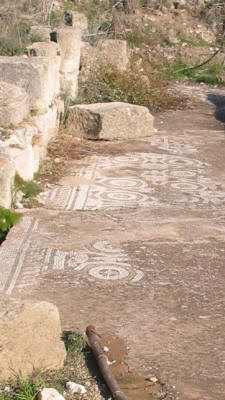 Mosaic Pavement
So who was Saint Epiphanios, and how did he come to have a basilica here?
He was born around 315 to a Hellenised Jewish family in Palestine. He was destined for the priesthood, and was fluent in the languages needed to understand scripture, to such an extent that he was called "Five Tongued". At a very early age he became a priest in Palestine, later moving to Egypt and staying at several desert communities. He returned to Palestine in about 333, was ordained and returned to a monastery he had built in his youth, and where he became the superior, a position he held for 30 years.
In 367, his reputation for learning prompted his nomination as Bishop of Constantia, although he still continued as superior of his monastery. During his time as bishop, he became known as a strong defender of orthodoxy, and would track down deviant teachings (heresies) wherever they could be found.
He died in 403, on his way back to Cyprus from Constantinople, and was buried in Salamis. His tomb can still be seen here although his remains were removed to Constantinople by the emperor Leo at the time of the Arab raids.
Built around 400AD as the metropolitan church of Salamis, the basilica consists of a nave separated from its aisles by two rows of columns. At one end there is a triple-arched semi-circular apse with seats for the bishop and clergy. Rooms on either side of the apse were used for dressing and storage. Hypocaust remains in the baptistery lead us to believe that baptisms were carried out in the winter with warm water, as well as in the summer.
The church was destroyed during the Arab raids in the 7th century, and a much smaller church built in its place some time after the original one was destroyed.
See the location in Google maps.
Return to Salamis Index, or Famagusta Index.