The time in North Cyprus is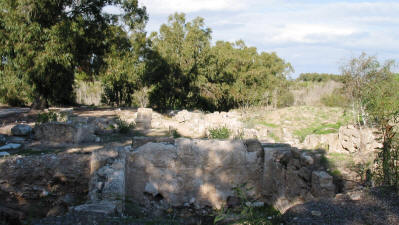 The Roman Villa
The Roman villa is to be found to the south of the theatre. This, however, is one of these ruins where you will have to let your imagination have its head!
The building once had two stories. The entrance was similar in design to a church apse, and it had a central inner courtyard with a columned portico. The living rooms were located on either side of the courtyard.
During excavations here, a platform with a mosaic floor covered with animal motives surrounding a central figure was discovered.
After the city was abandoned, the building was used as an olive mill. The large stone mill which was used to crunch the olives in the reception hall was discovered, along with mill stones and straining devices.
See the location in Google maps.
Return to Salamis Index, or Famagusta Index.