The time in North Cyprus is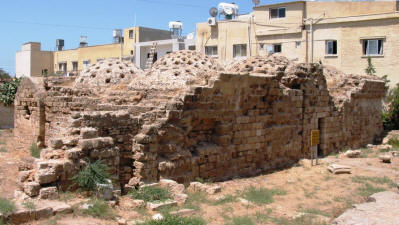 Kertikli Hamam
The Kertikli Hamam is in the north east corner of the walled city, close to Ayia Photou church.
The building is a domed bath house from Ottoman times, although it was built on an earlier, Lusignan, structure. It consists of six rooms, a reservoir, and a section believed to be a dressing room.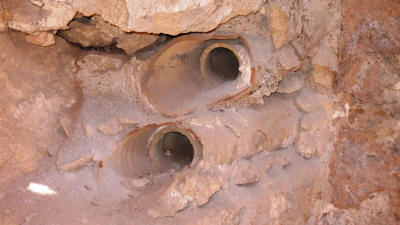 Clay Heating Pipes Built into the Wall
The Kertikli hamam is in ruins, although the domes are intact, and it looks quite spectacular from the outside. The fact that it is in ruins, though, enables us to see how it worked. Look at the clay pipes in the walls. Their purpose was to circulate hot air round the hamam, keeping everything at the same temperature. We are only able to see them because the walls have started to crumble away.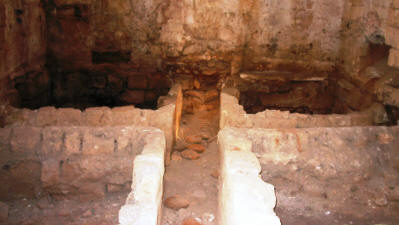 Floor Supports
Now look down. The narrow passageways you can walk along, are, in fact, supports for the floor which would be about your waist level. The floor was also supported by circular clay plates, called hypocausts, which were stacked on top of the other.
If you also keep your eyes open, you might see some broken remnants of the clay scoops used to scoop water over the bathers to help them cool off in the hot steam.
Further in to the Kertikli hamam you will see a pit where the furnace for the bath house was. It's mainly caved in now, but if you look closely, you can see an archway that was part of the man channel into which hot air was pumped in order to be circulated round the hamam using the clay pipes.
See the location on Google maps.
Back to Famagusta index.