The time in North Cyprus is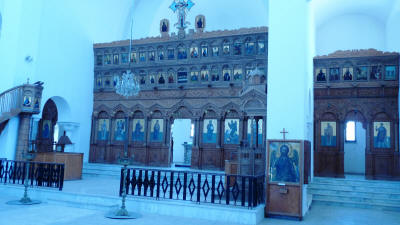 The Agios Ioannis Church and Icon Museum
The Agios Ioannis church is situated in the only part of Varosha which the public is allowed to visit.
Built in 1960, it was abandoned and left derelict in 1974. After renovation it was opened as an icon museum in 1994, and has around 120 icons on view. most of those date to the early to mid 20th century, but there are some much older. In particular, there are icons of Christ and St John which were painted in the 18th century.
The museum is theoretically open all week, but in practice it is not always manned. As it is inside a restricted area, you will have to leave some sort of photo ID at the gate. It is a couple of hundred yards inside Varosha, so take your time walking to it, and give yourself an opportunity to look at other parts of the abandoned city not normally visible.
Update, February 2014.
Because of the difficulty of supervising visitors into a military area, access to the church is no longer permitted.
See the location on Google maps.
Back to Famagusta index.