The time in North Cyprus is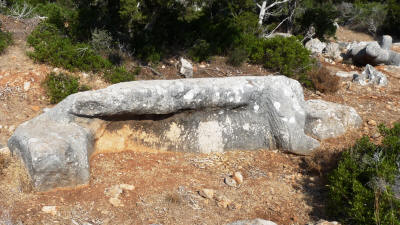 Partially Completed Statues
These three sites are close together, not far from Ayios Thrysos church.
Almost opposite the church, take the track inland for about 2 kilometres. There is a small red, wooden, sign for the statues along the track. This is repeated along the way, but is sometimes difficult to see in the vegetation.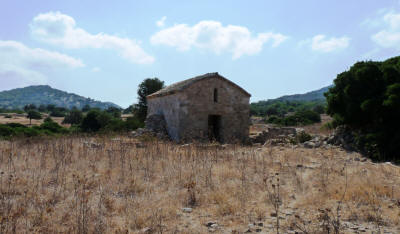 Ayia Marina Church
As you follow the signs, you will be passing through the area that once was Vikla fortress. This is about 200m inland from Ayios Thrysos, and is on the top of a small hill. On the flat ground to the west of the fortress, there is evidence of a necropolis, but it is well hidden in the vegetation. Further along the track, however, there are some bronze age tombs cut into the limestone bedrock.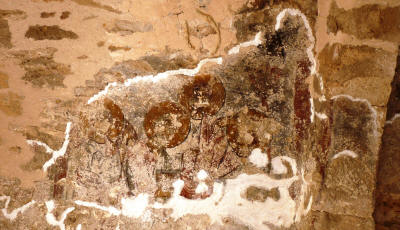 Frescoes From the Church Interior
You finally arrive at the remains of two unfinished statues. The were obviously carved into the limestone with the intention of cutting them free at a later date. Why they were never finished, or if they date to the same period as Vikla is unknown.
A couple of hundred metres across the fields from the statues, is the Byzantine church of Ayia Marina. Very little is known of this church. There is, however, the remains of an arched gateway and substantial walls nearby, would tend to indicate that the church formed the centre of a community.
Locally the church is known as the "Hanging Church", from the belief that this area was where the Ottomans took their criminals for execution.
It must also be said that "smooth" is not an adjective I would use in relation to the track to get here. You will need either to have a strong urge to visit the site, or a be a slightly mad webmaster determined to take photos. At first sight, you would think you need a 4WD, however I coped well with a little Kia Picanto carrying three people, so it's probably worth persevering if you want to have a look.
See the location on Google maps.
Return to Dipkarpaz index.