The time in North Cyprus is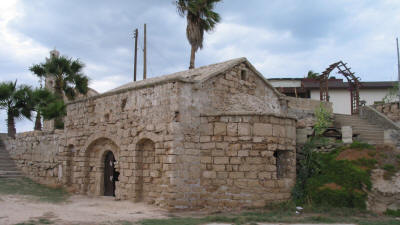 Ayios Thrysos Church
Ayios Thrysos church is, in fact, three churches. The one you see first alongside the road dates to the 15th century. It is, however, mainly empty, with no iconostasis, and what icons there are, are reproductions printed on hardboard.
Of much more interest, however is a smaller, medieval church, built closer to the shore, and not obvious as you drive past. This dates to around the 10th century. Further down is a small cave church which is probably Byzantine.
Inside the 10th century church is a healing spring which can be reached down a short flight of stairs. Be warned, however, it's a bring a torch and bend double situation.
This church is well used, as witnessed by the ready supply of candles at the entrance and the huge number of votive offerings in the form of paper tissues or pieces of cloth which have been inserted into every available nook and cranny.
See the location on Google maps.
Return to Dipkarpaz index.