The time in North Cyprus is
Zafer Burnu, also known as cape Apostolos Andreas, is approximately 5km along a reasonably smooth dirt track from the Apostolos Andreas Monastery. Along this part of the panhandle, the north and south coasts gradually merge, although because of geography and vegetation, you'll only see the southern coast till you get to the end of the cape.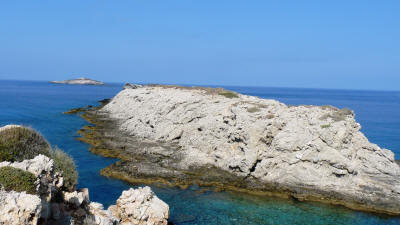 The Klidhes Islets
From here, all that can be seen are a series of small islands called the Klidhes Islets, unoccupied apart from seabirds and the occasional visiting scuba divers. If you could see far enough from here, the next landfall would be close to the border of Turkey and Syria.
This area was the site of the Neolithic city of Kastros. There was once a temple dedicated to Aphrodite here, but that disappeared many centuries ago. Kastros was excavated between 1970 and '73 by a French team. They discovered that the settlement consisted of small, round, houses, with a diameter of less than 3m. Some of them were round a common courtyard, and some built into platforms in the hillside.
Findings on the site would suggest that the inhabitants were engaged in both fishing and farming. Radio carbon dating off some of the finds indicate the settlement being in use around 6000BC.
Sadly in 2005, the Turkish military decided there was a need for two large flagpoles on the site. In order to do this, they either covered or destroyed the ancient site (There are no records of what the ratio is). It is believed that there is still much to be rediscovered, but sadly this will not be for some time.
See the location on Google maps.
Return to Dipkarpaz index.