The time in North Cyprus is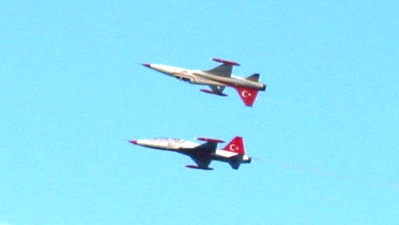 Tail Fin to Tail Fin Fly-Past
In 1974, the Greek military junta, which was then ruling Athens, overthrew the democratic government of Cyprus in a coup. The new regime engaged in widespread persecution of the island's Turkish minority, forcing Turkey to intervene to protect the human rights of the ethnic Turkish population of the northern half of the island. The move also stopped the attempt of Greece's dictatorship to annex the island to Greece, an act which would have been illegal under international law and which was similar to Saddam Hussein's later attempt to annex Kuwait to Iraq.
Eager to avoid annexation to Greece, on 13 February 1975, the north created the Turkish Cypriot Federated Republic. The Federated Republic wanted first of all to maintain Cyprus as an independent state, and avoid an illegal annexation to Greece.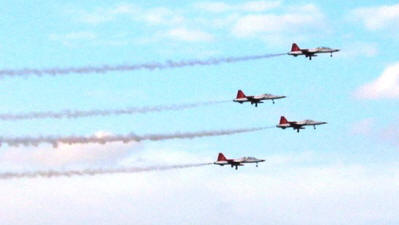 Gear Down Fly-Past at Kyrenia
That goal was met. Secondly, it wanted the Turkish north to unite with the southern Greek Cyprus in a federation similar to the arrangement which currently is in place in Bosnia. But the Greek Cypriots resisted since they wanted a unitary state which could be ruled by the majority in the south, and after nearly nine years of no progress towards the federation that the north wanted, it was clear that talks led nowhere. This prompted the north to instead declare full independence. On 15 November 1983, the Turkish Republic of Northern Cyprus declared its independence as a sovereign state based on the right of its people to self-determination.
The new country obtained international recognition from Turkey, and also receives support from Azerbaijan, but its 'de facto' independence has not yet been formally recognized by any other countries. Functioning as a separate independent state, it meets the requirements for statehood under international law.
The day is one of great celebration throughout north Cyprus, frequently involving air displays and military parades.
For all holiday dates, click here.