The time in North Cyprus is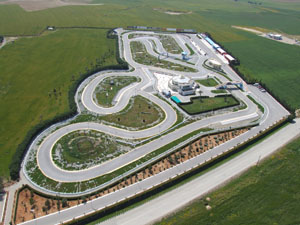 The Zet Karting Circuit
Located in a magnificent botanical garden ZET Karting provides you with three tracks, one which is 300m for children from age 7 to 14 providing safe and exciting races. We have our 600m & 900m circuit for race lovers, and if you want to to be more daring then you could race on our 1100m-1200m circuit. In our karting facilities we have a first aid room, changing rooms, garages and karting shop. In the Tower located in the middle of the circuit we keep track of the speed you race with our latest computer system, so at the end of your race you will know how many laps you have completed with what speed.
At Zet Karting the circuit is designed to hold races with 5 different track modes. These are 1200m, 1100m, 900m, 600m, and 300m. Safety barriers are erected for maximum protection for drivers as well as spectators with fire extinguisher placed at strategic places for safety precautions. Night time driving is achieved thanks to the technology we employed from Thorn-EMI in the installation of special lighting system for maximum brightness. There is of course a fully equipped First Aid room in line with International Safety regulations.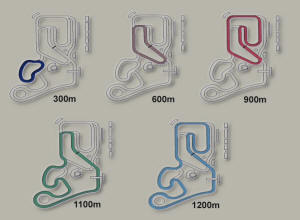 Circuit Plans
Zet Karting & Leisure Centre is a family run leisure centre which started in 1996, and after 4 years of hard work was finally opened to the public in May 2000. Our aim was to introduce karting as a sport not only to people interested in karting professionally but also to make it possible for people from the age of 7-70 to make karting their hobby. The track is 1200m long 7 m wide and was built to meet international standards set up by the sports governing bodies such as CIK & FIA. Our father was then an amateur racing driver, racing special saloon cars in England. Anyone familiar with racing at that time would recall names such as Tony Lafranchi, Nick Whiting and of course the Great Gerry Marshall. It was then that we became more interested and began to gain first hand experience with motor racing. This inspired me to get involved with our dads racing and our love affair with karting began. Our love with the sport coupled with first hand knowledge we learned from our father started up our karting career when we came to Cyprus. We started racing karts in streets and bus garages. Gradually karting became the most popular sport in Cyprus and with it the need for a proper circuit. With the financial backing of our family we started to build what is now Zet Karting circuit in 1996. After 4 years of hard work Zet Karting was finally ready for service and was opened to the public in May 2000.
Beside the circuit the complex includes a Z1 Bar & Z1 Cafeteria & BBQ offering dishes from local as well as International Cuisines. Our fully airconditioned Bar is open for special occasions, such as Theme Nights and Birthday parties.
There are two types of karts available at our circuit suitable for all ages;
Type 1. Suitable for ages between 7-14 years old: 120 cc single Honda Engine averaging speed of 30-40kmp on the 300 m circuit.
Type 2. Suitable for ages between 14 to adults: 270cc single Honda Engine averaging speeds of 90kmp on the intermediate circuit.