The time in North Cyprus is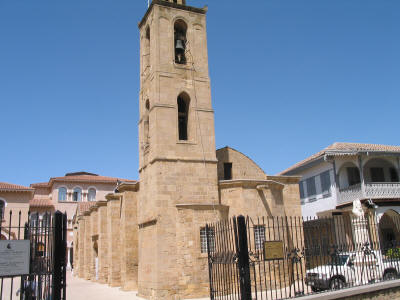 St John's Cathedral from the South
St John's Cathedral (Agios Ionnis), compared with the great cathedrals of Europe, is tiny. Its interior, however, is no less magnificent.
St John's Cathedral was built by Archbishop Nikiforos in 1662, on the site of the former Lusignan Benedictine Abbey of Saint John of Bibi (St John the Evangelist). "Bibi" is an abbreviation of the Arabic word "habibi", which means "beloved" and refers to Saint John as the beloved student of Christ.
When the Benedictine Order left the island in 1426, as a result of the Mamluk raids, the monastery passed into Orthodox hands, and was dedicated to St John the Theologian, while remaining a monastery.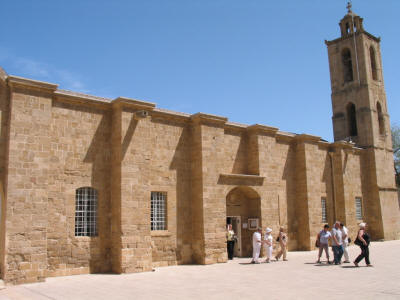 St John's Cathedral Western Exterior
In 1720, Archbishop Sylvester renovated it and changed it into the Orthodox Archbishop's residence. Although the foundation stone of the church had been laid by the then Archbishop of Cyprus, Nikiforos, on 30th April 1662, it was not consecrated until after it became the Orthodox Cathedral in 1720.
The church is single vaulted without a dome, and its long walls are covered with frescoes, which were created during the tenure of Archbishop Filotheos (1734-1759) from 1736 until 1756. The themes of the frescoes were mostly inspired from stories of the Bible. On the south wall there is a painting of the discovery of the tomb of the Apostle Barnabas at Salamis. (For a history of St Barnabas, have a look at our entry for St Barnabas Monastery in North Cyprus.) St John's Cathedral is the only church in Nicosia in which the whole of the internal wall paintings have survived in their entirety.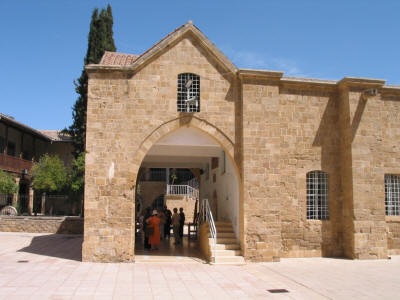 St John's cathedral Northern Entrance
Another element of this church is the magnificent carved iconostasis, which is covered with gold leaf. The four large icons on the iconostas were painted by by John Kornaro in 1795 and 1797.
Although the church is small compared with the other churches in Nicosia, It is the official state church. There is an ornate throne for the archbishop, complete with a magnificent Byzantine double-headed eagle. There are also places for the President of the Republic of Cyprus and the Greek Ambassador. The coronation of new Archbishops of Cyprus takes place here.
In August 1977, the body of Archbishop Makarios lay in state here for a week. On the day of his funeral, there was a sudden downpour of rain, the first August rain in Nicosia since records began. Greek Cypriots recalled an old Greek proverb, that when a good man died, the heavens shed tears. Turkish Cypriots, however recalled a Turkish proverb, that when an evil man died, the heavens tried to wash away his misdeeds.
Archbishop Makarios' successor, Archbishop Chrysostomos also lay in state here in December 2007, although the day of his funeral was dry!
The Cathedral is a popular stopping point for conducted tours, and as a consequence can be very crowded. Probably the best time to visit is early, before the organised tours have reached it.
See the location in Google maps
Back to South Nicosia Index