The time in North Cyprus is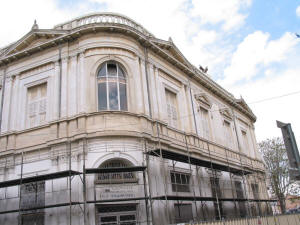 Phaneromeni Library
The Phaneromeni Library is currently undergoing renovation, and is not open to the public.
This neoclassical building was built in 1934, funded by the Phaneromeni Church. In 1936, the library of the Eastern Orthodox church was transferred here.
The library once held a collection of 16,000 books, magazines and Cyprus newspapers. Some 2,500 books came from the private collection of Michael Constantinides from Asia Minor.
The collection of the Phaneromeni Library has since been transferred to the Archbishop Makarios III Foundation, adjacent to the Archbishop's Palace.
See the location in Google maps
Back to South Nicosia Index