The time in North Cyprus is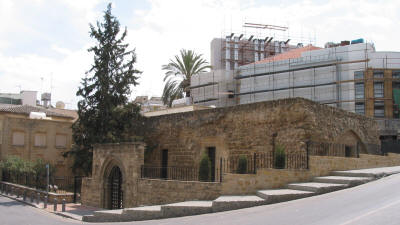 Casteliotissa
Casteliotissa is situated close to the Paphos gate.
This building was part of the second Royal palace of the Lusignans and dates to the 13th or 14th century. Some historians believe the site was probably part of the church of the women's monastery of Santa Clara.
In the course of its long history, Casteliotissa has undergone many changes and was subjected to a number of different uses. It once bore the name of Tophane, the Turkish term or arsenal or store for artillery ammunition.
According to the French historian, Mas Latrie, it was converted into a flourmill in the mid 19th century. Around 1920, it was also used to store oil products. In 1935 the Department of Antiquities took control of the building and completed its restoration.
In 1960 it was converted into a Medieval Museum, but due to damp, it once again became a storeroom, this time for archaeological materials. In 1992, the contents were removed, and systematic restoration and maintenance work was carried out, transforming the building into a cultural centre.
Casteliotissa, with its strong gothic elements, has been restored by the Department of Antiquities, and since 1996, has been a popular venue or exhibitions, concerts, seminars and conferences. It is only open to the public when functions are being held.
See the location in Google maps
Back to South Nicosia Index