The time in North Cyprus is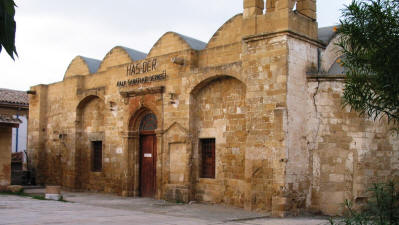 St Lucas Church
This church, also known as Ayios Lucas, is dedicated to St Luke, and is situated in the Apostolos Lucas area of Nicosia.
The church was built in 1758 in dressed limestone, during the Turkish administration. It is one of many Orthodox churches throughout the island built during the Ottoman period.
The church consists of two cross-vaulted naves separated into 4 bays. These are articulated on the south and north facade by the flat ends to the pointed barrel vaults and by buttresses. On the east and west facades the arches of the vaults terminate in ornate cornices. The southernmost nave bears a hexagonal segmented apse on the exterior, which is vaulted by half a dome.
Round clerestory windows can be seen in the peaks of the naves on the east fašade, while arched windows placed high up adorn the west fašade. A newer bell tower has been added on the SE corner. The openings on the north facade have been either blocked in by masonry or else altered from the original. Medieval water spouts punctuate the building on the west and south facades.
The north and west doorways are in the medieval style and possibly from an earlier building. Only the south remains.
Up until the 1950s, a four day and four night fair was organised annually in honour of St Lucas. By 1955, however, the church was evacuated by the Greeks, and it fell into ruin.
The church was restored in 1985 and 86, and houses the headquarters of the Cyprus Folklore Association (HASDER).
See location in Google maps.
Back to Nicosia Index.