The time in North Cyprus is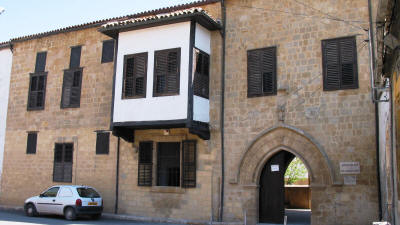 The Lusignan House
This mansion dates from the 15th century, and is a well preserved example of Lusignan architecture. Its Gothic arched main entrance and the Lusignan coats of arms above it are magnificent. During the Ottoman period, decorated wooden ceilings were added.
The mansion has a typical inner courtyard of the period. It is two storied, and built from cut stone. Additions during the Ottoman period were made from lath and plaster.
The upstairs rooms and wooden veranda are reached are reached from the ground floor round-stone pillared veranda by stone stairs.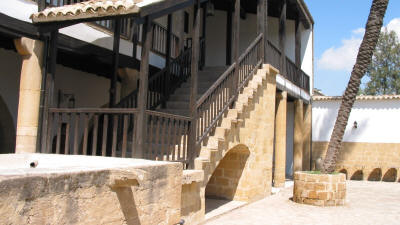 The Courtyard and Stairs to the Wooden Veranda
On the east side of the rectangular courtyard are the remains of stone arches. These have been filled in, which lead us to believe that the building was once extended in that direction.
Records show that in the 1870s a Turkish Family was using the mansion. In 1958, a Russian family who had been using the building as a residence and weaving workshop, bequeathed it to the Cyprus Government.
After the troubles of the 1960s, the building was partitioned and used to house refugees. By the late 1980's, however, the building was empty.
After renovation, the house was opened to the public in 1997. The house has been furnished with authentic furniture from the Ottoman and Lusignan periods
See location in Google maps.
Back to Nicosia Index.