The time in North Cyprus is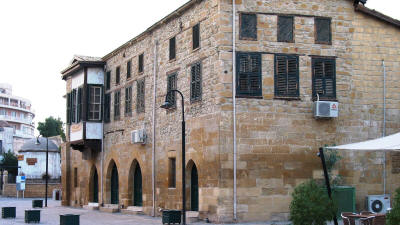 The Latin Archbishopric Palace
This should not be confused with the Archbishop's Palace which is situated in South Nicosia, and houses a Byzantine museum.
The Latin Archbishopric Palace can be found to the north of the Selimiye mosque.
The site was originally built by Eustorgius of Montague in the mid 1200s. It was much modified under his successors. However, at the time there was a great deal of conflict between the Orthodox and Latin versions of Christianity. When the Lusignans took control of the island, the authority of the Orthodox Church was very much reduced. In 1313, The Greeks sacked the building and tried to burn it down.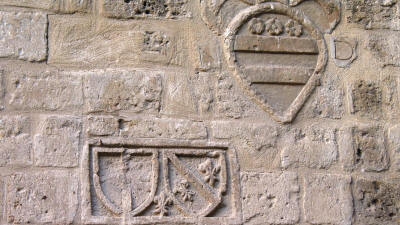 Venetian Coats of Arms
The current structure was originally built by the Lusignans in 1329. Extensions were added during the Venetian period, and three Venetian coats of arms can be seen above one of the external doors.
The Ottomans rebuilt the upper storeys in 1571, and it became the home of Menteszade, the first chief kadi (judge) of Cyprus. In the 1800s, the Ottoman governor, Kucuk Mehmet also lived here.
Refurbishment in the 19th century stripped away most of the original interior. However, in some of the upstairs rooms, Ottoman woodwork can still be seen. In the garden there is a still functioning fountain.
The palace is nowadays partially used as a restaurant, and is the home of the Turkish Cypriot Municipalities Union.
See location in Google maps.
Back to Nicosia Index.