The time in North Cyprus is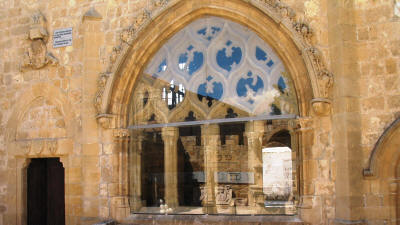 Lusignan Window
The Lapidary Museum is housed in a stone-built, two story Venetian building, dating back to the mid 15th century. it can be found to the east of the Selimiye mosque, but it is believed that when built, it was in the courtyard of St Sophia Cathedral, and was used as guesthouse for pilgrims and travellers.
During British colonial rule, many interesting works of stone and marble were housed in this museum, which in those days was known as the Jeffrey Museum. These architectural pieces included insignias, tombs and columns which had accumulated from medieval times.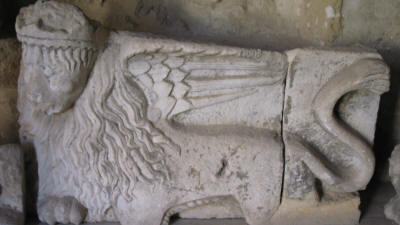 The Lion of St Mark
A unique carved stone window, in a Gothic style, with elegant tracery of a style common to cathedrals in the 15th century, now stands opposite the main entrance to the museum. This was moved from the Lusignan Palace in Sarayonu Square, when the British demolished it in 1901 to build the present Law Courts. Sadly, this is the only trace remaining of this Lusignan palace.
Other special features in the museum are a sarcophagus belonging to the Dampierre family, the tombstone of Adam of Antioch, and a marble lion of St Mark, the symbol of the Venetians..
The museum was refurbished and opened to visitors in 2003.
See location in Google maps.
Back to Nicosia Index.