The time in North Cyprus is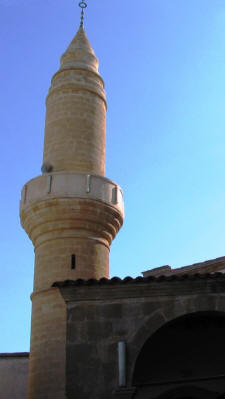 The Minaret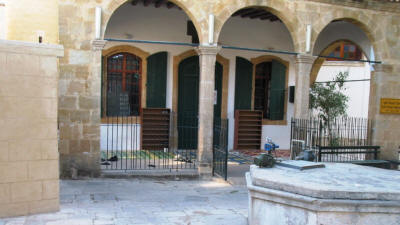 The Iplik Pazari Mosque
The Iplik Pazari Mosque, sometimes called the Iplik Bazaar Mosque, was probably built in the 18th century. It is named after a cotton bazaar that was originally at this location during the Ottoman period.
Records show that it was restored in 1826. it was further restored in 1899 by Mehmet Sadik, the director of the office of Evkav, the trust fund for Islamic buildings in Cyprus.
The mosque is quite small. The construction is of rough sandstone which has been plastered. Inside, the wooden ceiling is supported by two arches, and the main room is illuminated by arched windows. A wooden staircase leads to a room for women.
Outside there is a hexagonal water reservoir, which is still in use. The minaret, which is accessible from inside the mosque, is much older than the rest of the mosque. It is believed to have been originally from the Haci Ahmet Aga Mosque, an earlier mosque on this site. It has a single balcony and a stone conical top, making it one of only two in Cyprus of this design.
See location in Google maps.
Back to Nicosia Index.